California is infamous for its plethora of "professional" boards made up of unelected appointees who have direct power over the lives of Californians, who are often left with little to no avenue to appeal. This is a legacy of the Progressive movement from a century ago whose Progressive model of state government included concentrating power in few hands, with power increasingly devolved into the hands of "experts" who would be empowered to impose their alleged wiseness upon the ignorant masses.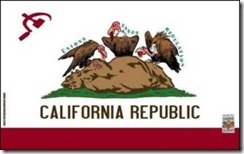 Until now, these "experts" who can arbitrarily and capriciously rule over you, had to be a fellow citizen. Now, if SB 174 of the current session, which has already passed the state Senate, is passed by the Assembly and signed by the Governor, foreign nations who are illegally present in this country could be placed on these all powerful boards to rule over American citizens like a military governor ruling over conquered territory.
The bill would, in part, add subsection to §1020 of the California Government Code:
"(b) A person, regardless of citizenship or immigration status, is eligible to hold an appointed civil office if the person is 18 years of age and a resident of the state.

"(c) A person appointed to civil office, regardless of citizenship or immigration status, may receive any form of compensation that the person is not otherwise prohibited from receiving pursuant to federal law, including, but not limited to, any stipend, grant, or reimbursement of personal expenses that is associated with carrying out the duties of that office."
This isn't surprising considering that foreign nationals who are present illegally can already serve in state courts as lawyers, and serious proposals have been made to allow these alien national to serve on juries and even vote.
The bill would also declare children of transient aliens and of alien public ministers and consuls to be citizens of California.
The text of the bill as passed out of the Senate and under consideration by the Assembly can be read below:
California SB 174 (2018) as Passed by the Senate by ThePoliticalHat on Scribd