Apparently one plus one equaling two is an oppressive social construct.  Don't take my word on it, just read a peer reviewed article entitled "Moving Towards a Feminist Epistemology of Mathematics"!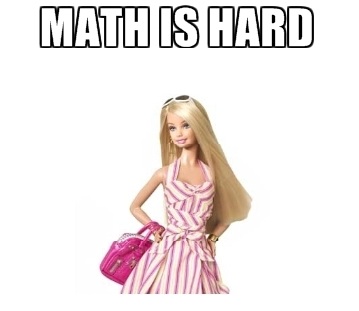 The peer reviewed article, appearing in Educational Studies in Mathematics (Vol 28, No. 3, pp. 275-291) is worthy of a fisking.  While many passages are repetitive or vacuous, the major idiocy will be pointed out for your reading pleasure…
N.B. References noted in text will be omitted for ease of reading.
"Received science has been criticised on three grounds from a gender perspective. The first is its reductionism and its claim to be objective and value-free. Second, the conventional style of learning and teaching in science, its pedagogy, has been challenged. It is suggested that enquiry methods used by scientists are often intrusive and mechanistic, separating observer and observed, and reinforcing competition. Further these methods a presented not only as 'correct' but also as the only way possible. Third, having rejected objectivity as an untenable criterion for judging science, a new scientific epistemology was required and has been derived  by examining the connections between the discipline and those who use it, and the society within which it develops. This line of reasoning is consistent with a broad range of thinking in the sociology of science."
To translate from academic gobbledygook to plain English: Math is sexist because it's not subjective and open to interpretation; there is no such thing as a "correct" answer; and pedagogical idjits need to come up with politically correct nonsense that eschews actual mathematics.
"Mathematics tends to be taught with a heavy reliance upon written texts which removes its conjectural nature, presenting it as inert information which should not be questioned. Predominant patterns of teaching focus on the individual learner and induce competition between learners. Language is pre-digested in the text, assuming that meaning is communicated and is on-negotiable."
That is because 1 + 1 = 2.  This is not conjectural.  You are free to question it.  Understand the proof and disprove it or provide your own contradicting proof.  And the point of teaching mathematics is to teach mathematics to the individual.  It either is or is not; there is no "negotiation".