For some time now the value of citizenship, and the pride that goes therewith, has been increasingly diminished, with the push for non–citizen voting, non-citizen lawyers, and non-citizen juries. But eliminating the difference between citizens and non-citizens isn't the goal; elevating non-citizens above citizens is.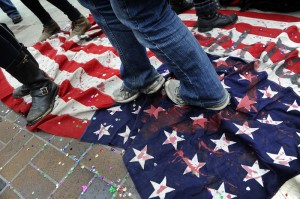 For example, the city of Cambridge, Massachusetts, will not arrest illegal immigrants who drive without a license, while continuing to punish both citizens and legal immigrants for doing the same.
Illegal immigrants in Cambridge won't be arrested for unlicensed driving https://t.co/vhm5Wr3YSg

— Boston Herald (@bostonherald) February 20, 2020
In San Fransiso, the new red-diaper DA, Chesa Boudin, is setting up a task force to "prevent illegal aliens from being prosecuted or deported".   And the targets of opposition includes San Fransisco's own police force!
"A newly minted district attorney for a major American city vows to establish an immigration unit. At first blush, that would seem entirely normal for a prosecutor's office. Immigration laws require enforcement, and prosecutors are in the law-enforcement business.

"But no—the new San Francisco DA actually has in mind an immigration defense unit. He wants to assign a staff of prosecutors to protect undocumented aliens—those who are either illegal and thus deportable to begin with, or for whom a criminal conviction could result in loss of lawful status and thus eventual deportation. The unit's enforcement target would be not the law violators but the Immigration and Customs Enforcement agents who enforce federal laws, along with any local police and corrections officials who have the temerity to assist ICE in that endeavor. The prosecutors' mission, in the words of their new boss, would be to "stand up to Trump on immigration"—the president having made signature issues of border security and the stepped-up deportation of aliens who flout the laws."
All Boudin and others of his ilk ask for is a little sympathy…