Most people understand that when a woman is raped by a man, they might be frightened of being in a vulnerable position when men are around. The head of Scotland's biggest rape crisis center thinks that women who were raped by someone with a penis and don't want to be around someone who has a penis are the real monsters here because it's transphobic to fear being raped by a "woman" with a penis.
"THE head of one of Scotland's biggest rape crisis centres has suggested 'bigoted' rape survivors should be re-educated about transgender rights as part of recovering from their trauma.

"Mridul Wadhwa, a transgender woman [sic], said people would not truly recover unless they addressed their 'unacceptable beliefs' because 'therapy is political'.

"She [sic] said: 'We will work with you… but please expect to be challenged on your prejudices.'

"The comments imply rape survivors may be treated differently according to their political views."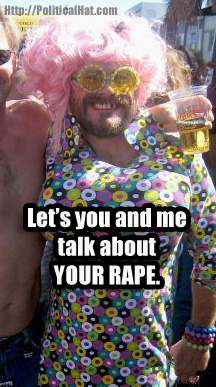 And just how crazy is this Wadhwa person.
"Wadhwa, a former SNP council candidate in Edinburgh, last year made it onto an all-women shortlist for the party's Holyrood candidacy in Stirling.

"But she left the party in December after MSPs backed a law to let rape survivors choose the sex, rather than the gender, of the person examining them, and joined the Greens instead."
When you are too left with for the Scottish National Party…