The United Kingdom's so-called National Health Service (NHS) has built up quite a name for itself for insisting on killing, in several infamous cases, infants despite parents and even foreign countries not only objecting but also offering to take in said infants. To cases such as Tafida Raqeeb, Charlie Gard, and Alfie Evans, the NHS can now add Alta Fixsler to the list of babies they are hell-bent on killing.
"Royal Manchester Children's Hospital, where Alta is currently being cared for, told Alta's parents that their daughter should be taken off life support and allowed to die. Doctors, they were told, had decided that Alta, tethered to a ventilator and requiring a feeding tube, was experiencing pain and had no quality of life.

"…

"Although a number of pediatric neurologists disagreed with Royal Manchester's contention that Alta was in pain, the hospital physicians petitioned the British High Court for permission to remove her life support.

"In June, the court acceded to the hospital's request. Justice Alistair MacDonald ruled that, even though Israel was prepared to accept Alta, taking her abroad would expose her to further discomfort 'for no medical benefit,' and that moving the child would 'expose Alta to further pain and discomfort.'

"'It cannot be said to be in Alta's best interests,' the justice explained, 'to be transferred to Israel for life sustaining treatment to continue.'"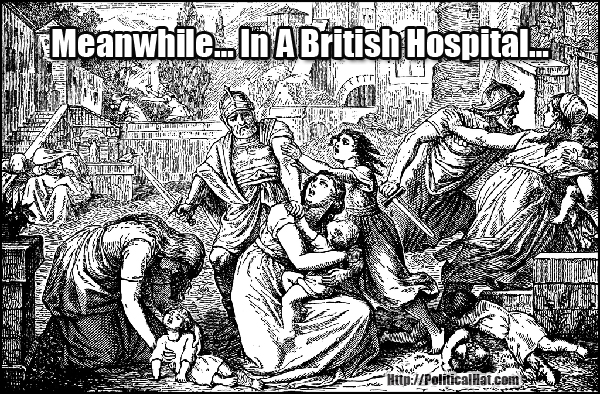 The case of little Alta had gained bipartisan support in the United States.
"Here in the U.S., New York Sen. Chuck Schumer secured a visa for Alta and sent a letter to Britain's ambassador to the U.S., Karen Pierce, demanding that no health decisions be taken against the family's wishes and that the family be allowed to travel to the U.S.

"New Jersey Sens. Cory Booker and Robert Menendez followed up with a letter of their own to Pierce, saying their state's Phoenix Center for Rehabilitation and Pediatrics was ready and willing to take Alta in.

"Ten Republican senators also joined the effort, asking President Joe Biden to try to save Alta's life. 'We are profoundly troubled,' they wrote, 'that the child of an American citizen is being treated this way, in a country with whom we have a deep alliance and special relationship. We urge you to advocate to Prime Minister Johnson on behalf of the Fixsler family.'"
Alas, it does not look like little Alta will be one of the lucky ones.
Hat Tip: Wesley J. Smith.