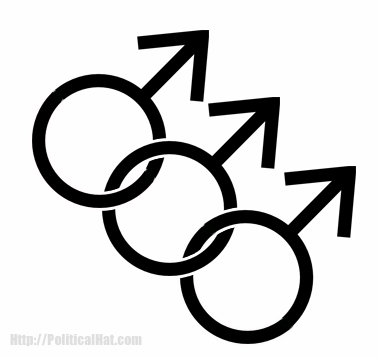 The fight to dispense with that "irrational animus" off limiting the institution of marriage to two and only two people continues to advance against the duo-normative oppression of the "diarchy": A "thruple" of three men are not only raising a baby together, they have all been recognized as the baby's father.
"A throuple have made legal history after a court allowed three dads to be named on their children's birth certificates.

"Ian Jenkins, Alan Mayfield and Jeremy Allen Hodges used donated embryos and surrogates to welcome their two children, daughter Piper and son Parker, into the world.

"The trio made legal history in 2017 when a judge allowed them all to be on the birth certificate of Piper – which was a huge milestone for polyamorous families to gain recognition in the US.

"Ian, a doctor, told Huff Post: 'One of [Jeremy's] friends offered us the embryos they had left from making their family through IVF but couldn't use.

"…

"Despite many people accepting their domestic set-up, the biggest challenge came before Piper was born because restrictive laws were preventing them from building a family through surrogacy."
The judge progressively decided that parentage has nothing to do with biology, and granted the request to have the baby listed as having three daddies.
Marriage is all about validating feelz and whatever anyone wants, 'twould seem, now-a-days.