Courts in the United States have struck blows against duo-normative oppression, and the vanguard against duo-normative oppression has been from the United States… but the true victory for non-duo-normative values comes from… Thailand!
Three men have married each other according to Buddhist ritual.:
"Three gay men recently married each other to become the world's first three-way, same-sex marriage.

"Joke, Bell and Art exchanged vows and rings on Valentine's Day at their home in Uthai Thani Province, Thailand, noted the Mirror.

"'Some people may not agree and are probably amazed by our decision, but we believe many people do understand and accept our choice. Love is love, after all,' said Bell."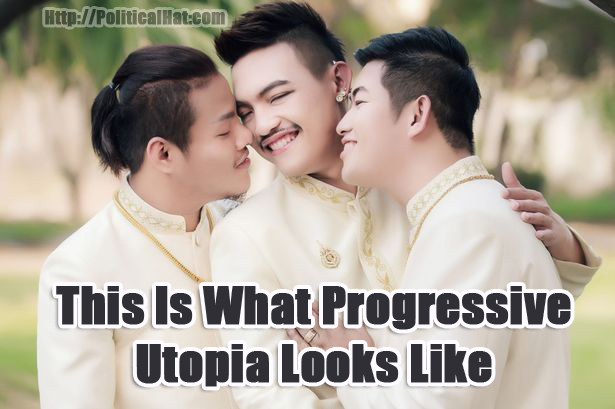 The so called "law" aside, the union of three persons was recognized by holy writ:
Although same-sex marriages are not recognized as legitimate under Thai law, the trio were able to consummate their love under Buddhist law."
And isn't their story reminiscent of the many reasons claimed for formalizing same-sex marriages?
"Reports state that Art and Joke met through business and became romantically involved in 2010, shortly after which they began living together. The couple later met Bell at a party, and started spending time together. When Bell was later 'hospitalized with a congenital disease,' Art and Joke proposed the three-way marriage."
Nothing is sacred… everything goes.  Limits are for oppressors!!1!`~eleventy!!1!