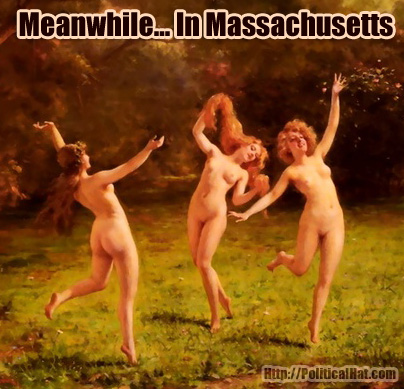 A "throuple"of three lesbians have married each other and are expecting a baby.  Since Same-Sex marriage supporters have been demanding that marriage be defined by the duo-normative definition of marriage being only between two individuals, the three lesbians (Doll, Brynn, and Kitten) have had to go through legal wrangling to get as married to each other as the duo-normative oppressive laws of Massachusetts allow:
"The so-called 'throuple' worked with a specialist family lawyer who drew up the paperwork and drafted the ceremony so that all three of them were obligated and bound to each other .

"While Brynn and Kitten are legally married, Doll is handfasted to both so the threesome are as equally married to each other as legally possible."
According to the three lesbians, it is not a "lifestyle choice" but their innate sexual orientation:
"It was back in 2009 that Brynn first met Doll through an online dating site. Senior Software Designer and Engineer, Brynn had been married twice before to women and both experiences had made her acknowledge that monogamous relationships weren't for her.

"Meanwhile Fashion Designer, Doll had known that she was polygamous since high school. …

"'I never thought that much about it and I had never really 'come out' as poly to my friends and family. To me, it was just how I was.'"
The third in this triumphant triad also realized that monogamy was false and oppressive, and later embraced her sexual orientation as a "poly":
"'The whole break-up forced me to really think about who I was and I realised that I had not been honest to myself. On reflection, I realised that I hadn't been happy in my previous monogamous relationships and I discovered that I was poly.'"
Once the idea that one's biological sex was irrelevant to marriage, did anyone really think that the number of people involved would remain so sacrosanct, particularly since polygamy has been widespread throughout human history while true same-sex marriage is virtually unknown?