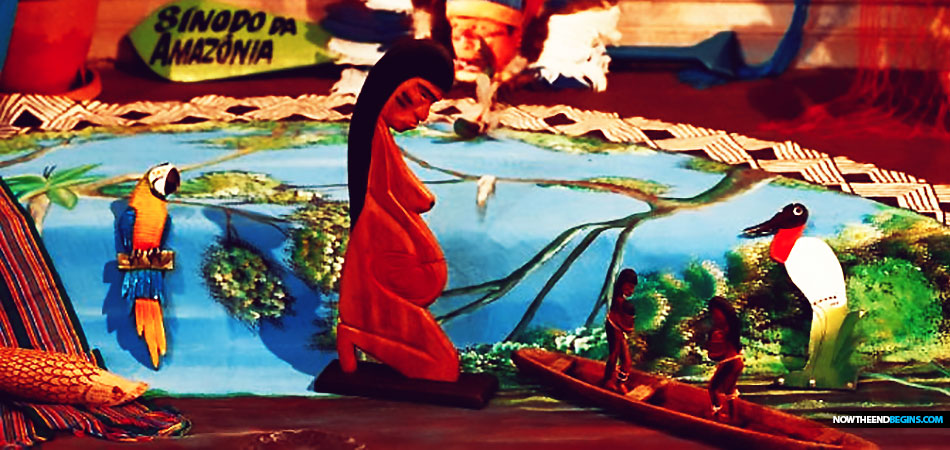 Ah yes, that "noble savage" knowledge and more Earth-centered and spiritual "way of knowing" so alien to the wicked and evil West! So enlightened as to still to this day engage in animal and even human sacrifice.
"A man has told of how he smashed his way out of a coffin after being buried alive by festival goers 'as a sacrifice to mother earth' when he passed out while drinking in Bolivia.

"After passing out the night before following a heavy drinking session at the opening of the Mother Earth Festival in El Alto, Bolivia, on 5 August, Víctor Hugo Mica Alvarez, 30, found himself 50 miles away inside a casket in Achacachi.

"The Mother Earth Festival sees people giving thanks to Pachamama, the goddess of earth and fertility, where they give offerings, also known as a 'sullu', to the planet.

"Indigenous Bolivians believe the goddess 'opens her mouth' for offerings in August, and many will give anything from live animals to sheep foetuses, as well as cocoa leaves and sweets."
That goddess, Pachamama… it sounds familiar. Oh… oh my!
"In his new exhortation released today on the Amazon Synod, Pope Francis made statements about 'indigenous' symbols and 'certain religious practices' that could be interpreted as a defense of the use of the controversial 'Pachamama' statues during the synod in Rome last year.

"In section 78 of Querida Amazonia, Pope Francis states that people should 'not be quick to describe as superstition or paganism certain religious practices that arise spontaneously from the life of peoples.'"
Maybe, juuust maybe, there was something positive about the entire "conquistador" thing after all.