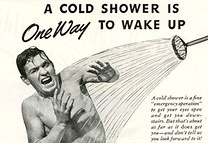 From the NGO that told us to eat the bugs and live in the pod while owning nothing, comes the declaration that we should all take cold showers… and like it.
People who have regular cold showers take 29% fewer days off work.

Read more about the cool benefits of cold showers: https://t.co/RsfOpcTmBX pic.twitter.com/u2NGVYxzWa

— World Economic Forum (@wef) November 29, 2021
Yes, they openly said they want to intentionally trigger a "fight or flight" response.
To all this, there can be only on legitimate response:
Stay warm and comfy… while you can.