In 2012, a Democrat, Andrew Martin, who ran for the Assembly was ruled ineligible due to not living inside the district.  Due to the judge's ruling occurring after early voting had begun, he remained on the ballot and won.  The Assembly, controlled by Democrats, decided to seat him despite his not having been legally elected.  He is now running for state Controller.
This year, Democrats tried that trick again.  Fortunately, a judge ruled the Democrat Meghan Smith ineligible before early voting started.  However:
"Although Smith is ineligible, her name will stay on the ballot because state law doesn't allow changes after the fourth Friday in June before the election.

"Under state law, if Smith were to get more votes than [Republican candidate Victoria] Seaman, the Assembly would pick someone to fill the seat. And that someone could be her."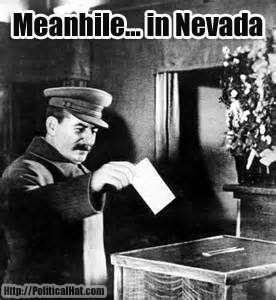 The district is D+10, and the seat was won by termed out Assemblyman William Horne with 57% of the vote, so there is a strong possibility that Smith will win the most votes, and then be appointed to the Assembly seat, which would be likely.
However, signs are posted at polling placed letting voters know that she is not eligible for office:
"Smith, who was found to be disqualified as a candidate in the Assembly District 34 race, failed in her Supreme Court bid to have signs removed from polling places that informed voters about her ineligibility."
It remains to be seen how that effects the vote.