It has been previously noted that the University of Michigan Black Student Union threatened "physical action" unless their "more-Left-than-Academics" demands were met, and how the university caved.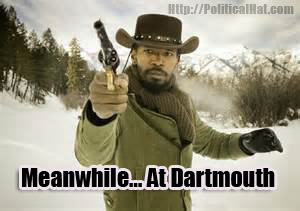 It turns out this was the first of many such threats of "physical action" unless their demands are met.
These demands are:
Racial enrollment quotas for Black and Latino students to "at least 10 percent each"
"Ensure that 47 percent of post-doctoral students are people of color"
"Ban the use of 'illegal aliens, illegal immigrants, wetback' and any racially charged term""
Mandate cultural competency and sensitivity training for professors
"Ask staff/faculty to use students' and employees' preferred gender pronouns"
Enroll more students in the country illegally (undocumented students); and provide them free legal assistance and financial aid
Convert ethnic studies programs into full-fledged departments
Incorporate into each department at least one queer studies class
Increase the interdisciplinary academic focus on sexualities
Enact curricular changes to force students to study social justice and marginalization in depth
Provide gender-neutral bathrooms in every building on campus
"Create a policy with serious consequences against hate speech/crimes"
Create a policy penalizing and discriminating against students who use the Indian mascot
Require school's conservative paper give up "Dartmouth" name if they use term "Indian"
If history is a guide, Dartmouth will cave.