Another "quick takes" on items where there is too little to say to make a complete article, but is still important enough to comment on.
The focus this time: For young girls, Abion is perfidious.
First, a little mood music:
Carrying on…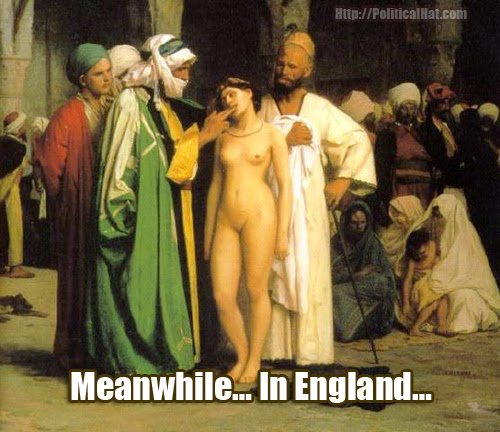 Apparently investigating crimes are racist when Pakistani men might be caught and prosecuted… and their victims just young White girls.
"An Asian grooming gang was free to roam the streets and abuse young girls because police officers were told to "find other ethnicities" to investigate, a detective has claimed.

"At least 57 young girls are thought to have been exploited by a paedophile network of around 100 suspected perpetrators based in south Manchester in the 2000s. The gang, mainly comprised of Asian men, hooked their victims on drugs, groomed, and sexually abused them. One girl, aged 15, died after being injected with heroin by a 50-year-old man."
However, not being White isn't enough. Sikh girls are also targeted because they weren't Muslim.
"Gangs of predominantly Pakistani men have been grooming British Sikh girls for decades, according to claims in a bombshell report.

"The study alleges that young Sikh women have been 'targeted' by Muslim men who subjected them to sexual abuse.

"The report by the Sikh Mediation and Rehabilitation Team charity found that police 'recklessly ignored' complaints – often for reasons of 'political correctness'."
_______________________________________________
Nothing says British education like… asking an 11 year old to define types of "hardcore" porn for homework.
"Parents fumed as a United Kingdom school set their children inappropriate questions regarding the categorization of certain forms of pornography.

"Children between the ages of 11-14 were asked to define types of pornography ranging from 'soft,' 'hardcore,' and even 'transsexual' as part of their assignment.

"Included in the insensitive work was female genital mutilation, male circumcision, breast ironing, wet dreams, and trafficking, among other controversial themes."
_______________________________________________
Some are fighting back against sexual madness in the U.K.
"A 23-year-old woman who is taking legal action against an NHS gender clinic says she should have been challenged more by medical staff over her decision to transition to a male as a teenager."
TTFN.
http://politicalhat.com/wp-content/uploads/2017/04/Sex-Slavery-England.jpg