A woke blue check mark on Twitter decided a Hispanic mother teaching her child that the U.S. isn't evil incarnate so bad and so dangerous, he literally called child protective services!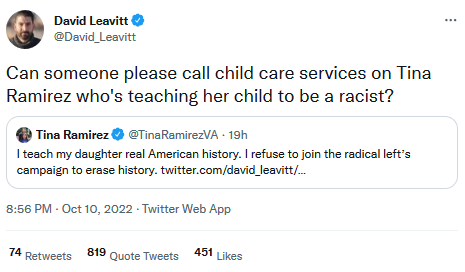 The woman in question responded to this outrage.
Tonight, @David_Leavitt called Child Protective Services to report "child abuse" because I teach my daughter about Christopher Columbus and real American history. As a single mother, I am my daughter's only support. This is appalling for a number of reasons.

— Tina Ramirez (@TinaRamirezVA) October 11, 2022
And she is right to be outraged.
Radical leftist @David_Leavitt didn't just call CPS to level accusations against me.

He waited an hour on hold, tying up the lines of our CPS professionals trying to help Virginia's children. The radical left is willing to put our children at risk to cancel conservatives.

2/4

— Tina Ramirez (@TinaRamirezVA) October 11, 2022
It's no surprise that a member of the radical left is willing to go so far as to call CPS on a single mother – simply because they want to erase history.

The radical left doesn't want parents making decisions for their own families.

3/4

— Tina Ramirez (@TinaRamirezVA) October 11, 2022
This goes back to what Virginians fought for in 2021 when they elected @GlennYoungkin: parent's rights.

The radical left is willing to sit on hold with CPS for a full hour to level accusations of child abuse – all because we don't agree with their out-of-touch worldview.

4/4

— Tina Ramirez (@TinaRamirezVA) October 11, 2022
Funny how people like Leavitt are never punished by Twitter…