Another "quick takes" on items where there is too little to say to make a complete article, but is still important enough to comment on.
The focus this time: The quest for more death.
First, a little mood music: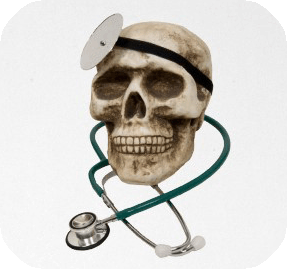 The idea that a person can choose to "die with dignity" kinda presumes that they have the mental capacity and ability to choose… unless they are in Canada.
"A bill just passed the House of Commons that — barring shockingly unforeseen resistance in the Senate, which already voted to loosen the rules — will radically expand eligibility for euthanasia in Canada, including the following provisions:

   Reasonably foreseeable death will no longer be required. That opens the door to euthanizing people with disabilities, patients diagnosed with dementia but still competent, as well as the mentally ill.

   After a further time for studying the issue of creating protective guidelines (!!), people whose sole medical problem is mental illness will explicitly qualify for euthanasia.

   There will be no waiting period required between request for death and termination for people whose deaths are reasonably foreseeable — a very lax term. This means a patient with, say, two years of life expectancy could theoretically be killed immediately upon request.

"The expansion will eventually continue to allowing people diagnosed with dementia to order themselves killed in an advance directive when they become mentally incompetent and to pediatric euthanasia of 'mature minors' — both among the subjects likely to be 'studied' by a committee of 'experts' over the next two years, meaning they are coming next."

Now, you don't even need to ask if someone who has asked to reserve the choice of when or if they are to die… you just drug 'em and kill 'em!
"A few years ago, Dutch doctor Marinou Arends attended to her dementia patient in a nursing home. Arends wasn't there to treat her, but to kill her via lethal injection.

"…

"Now, the Dutch have reacted to the case to create specific rules governing the euthanasia of dementia patients. Of course they now allow drugging to prevent resistance! From the Guardian story:

"'Doctors euthanising a patient with severe dementia may slip a sedative into their food or drink if there are concerns they will become "disturbed, agitated or aggressive", under a change to the codes of practice in the Netherlands.'

"Another factor of the Arends story is worth noting. The patient had asked for euthanasia when she became incompetent, but she wanted to decide when. She never did. So, the rules were changed to govern that circumstance too:

"'The new code says that in cases where a patient has advanced dementia, "it is not necessary for the doctor to agree with the patient the time or manner in which euthanasia will be given".

    "'Kohnstamm said: "Doctors now have less to worry about putting their necks in a noose with euthanasia. They need less fear of justice. Or for the review committee."'

"No, we wouldn't want that."

Nothing says "rare cases where a person is dying and in pain" like ten times as many people dying as euthanasia proponents said there'd be.
"While the Australian state of Tasmania is debating a bill that would legalize assisted suicide, the state of Victoria reported more than ten times the anticipated number of deaths from assisted suicide and euthanasia in its first legal year.

"Victoria's Voluntary Assisted Dying Review Board reported 124 deaths by assisted suicide and euthanasia since June 19, 2019, when the legalization of the precedure took effect, The Catholic Weekly reported. There were a total of 231 permits issued for the procedure that year.

"According to the review board's report, 104 of those who died under the Voluntary Assisted Dying Act 2017 committed assisted suicide, while 20 people were euthanized by a medical practitioner.

"'That number blows apart Victorian Premier Daniel Andrew's much-publicised prediction of 'a dozen' deaths in the first 12 months,' Marilyn Rodrigues wrote in The Catholic Weekly, an Australian publication."
TTFN.