The United Nations is know as, aside from child-raping "Peacekeepers", as being a joke—and a bad joke at that. Now, the so-called "Human Rights Council" of the U.N. (which is run by the usual assortment of tyrants) is going after the "systemic" racism in the United States, which it just presumes to exist, lead by hardcore Leftist Michelle Bachelet (who has a helicopter-sized chip on her shoulder).
"In line with the final version of the resolution text, the High Commissioner should 'prepare a report on systemic racism, violations of international human rights law against Africans and people of African descent by law enforcement agencies, especially those incidents that resulted in the death of George Floyd and other Africans and of people of African descent'.

"The text also calls on Ms. Bachelet – assisted by UN appointed independent rights experts and committees 'to examine government responses to anti-racism peaceful process peaceful protests, including the alleged use of excessive force against protesters, bystanders and journalists'."
The resolution was adopted without dissent.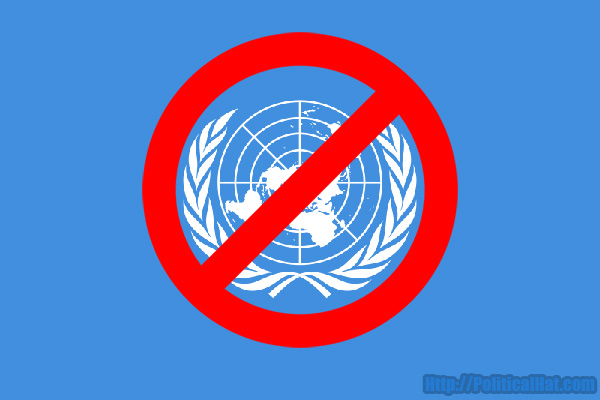 The highlight of the United Nations collective excuse to be hatin' on the U.S. of A, however, was the "profound concern" over how Antifa and other rioting wannabe revolutionaries were being stopped and arrested by police for their "peaceful" looting and arson.
"Although there has not been an legislative action taken following the 31 May statement, Ms. Ní Aoláin – an expert lawyer who worked extensively in the human rights and terrorism-related field in her native Northern Ireland – said that the 'the loose use of terrorism rhetoric undermines legitimate protests and dampens freedom of expression in the United States, which has been a hallmark of US constitutional values, and a beacon far beyond its shores'.

"Echoing the unease expressed by the UN High Commissioner for Human Rights regarding structural race discrimination in the US, particularly in the realm of policing, the Special Rapporteur said that regulating protests and violence through the lens of counter-terrorism may only sharpen divisions and accentuate tensions, fuelling further human rights violations."
It's being called "domestic terrorism" because it is domestic terrorism by groups like Antifa, or by autonomous communes like CHAZ/CHOD. It is organized and targeted by thugs and wannabe tyrants who openly say they want to see the United States taken down or "fundamentally transformed" via their little revoluutions.
And oh, the irony of the U.N., especially from Europeans, trying to lecture the U.S. on freedoms enshrined in the 1st Amendment—rights that those sophisticated nations openly trample over whenever it suits them!
And if to make it clear that the United Nations supports anarcho-communists of Antifa and their ideological confederates and political entente, the U.N. out of Geneva openly tweeted in their support (now deleted, but the internet is forever).