Are the White woke people going bald for #BlackLivesMatter?
Let's find out!
This is tidbit came across on Twitter…
Today I showed my solidarity for #blacklivesmatter by shaving my head in protest. #gobaldforblm i feel amazing pic.twitter.com/yNV44MsAca

— MADDIE ❀ (@PromNig74191126) June 4, 2020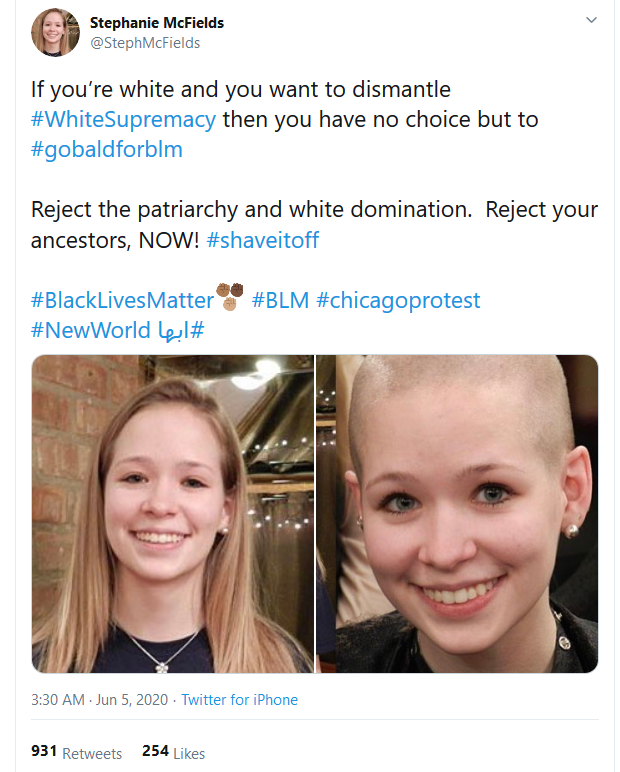 It even caused reasonable people to point out how stupid it is to go "skinhead" to end White supremacy, amongst other ridiculous parallels.
Right, I remember this one. Weren't you at Sharon Tate's house? pic.twitter.com/fo24JnZfYV

— Brian M (@CubsFn4Evr) June 5, 2020
If you're considering #GoBaldforBLM, consider this: shaving women's heads was what French partisans did to women after the end of Occupation to mark and shame those who had been Nazi collaborators. Get it? The people urging you to do this know the history even if you don't. pic.twitter.com/Vgc62zzzXC

— James Higgins (@JamesEHiggins) June 5, 2020
However…
Hey hoore, check this out! pic.twitter.com/vcSXSWaslR

— Moana (@ladynationalist) June 5, 2020
Stephanie McFields is a bot account using a photo of another woman's photo as an Avi.
The other lady shaved her hair off for a breast cancer charity in 2012.
These people are scum. https://t.co/NBl9JapGD1 https://t.co/jtkwJDuRD2

— Ollie🇬🇧#AllLivesMatter (@31012020Ol) June 5, 2020
So was behind this?
4chan, of course.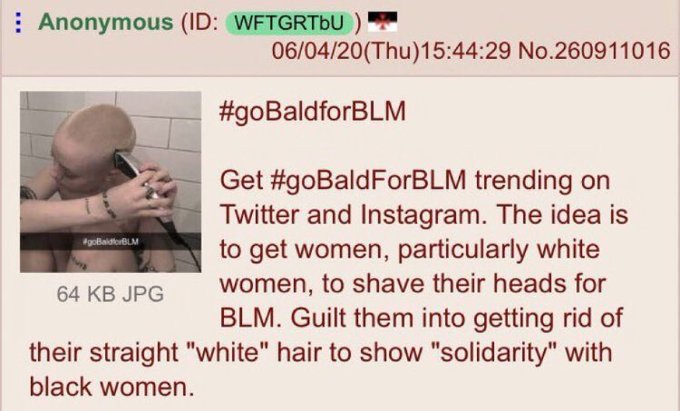 So, are the White woke people going bald for #BlackLivesMatter?
Considering 4chan's success in convincing people that the OK hand sign and even milk are White supremacist symbols, it might still be true yet.