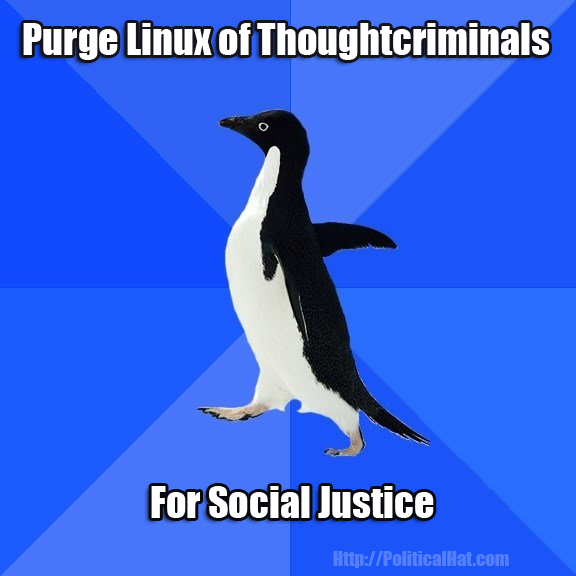 The threat from "Social Justice" in technology comes not just from corporations, but now can be found in the open source community, as can be seen by Linux adopting a "social justice" friendly "code of conduct" (CoC), where vague prohibitions of trolling and "insulting" comments come hand in hand with punishing people for "improper" pronouns.
you can now be banned for:

trolling
improper pronouns
"insulting" comments

weaponized autism lmao gfy pic.twitter.com/YiM4fzeR5i

— t0tal (@totalxy) September 17, 2018
This new "code of conduct" is already being used as a cudgel to punish the doubleplusungood unpersons:
Exactly. Nobody is arguing with "be nice and don't harass others" everybody wants this.

The problem is that I already have a couple of devs and one reporter here trying to use the code to find wrong thinkers and punish them with this new COC, often while violating it. https://t.co/kze8jRrNpU

— Mark Kern (@Grummz) September 18, 2018
However, ironically enough, this very same CoC could be used by those burned by the SJWs to burn Linux to the ground:
Already suggestions of rescinding of code, legal action and burn it to the ground for those who find themselves guilty of the vague terms of the Code of Conduct: https://t.co/Bxd0SyX0ew

I just hope the Linux and FOSS community will push back against this.

— Gareth Hart (@tgheretford) September 20, 2018
This isn't just limited to Linux's kernal, however, but also to others, such as with PHP, and will purge good programmers just as what happened with Brendon Eich who was working with Firefox. Eich rebounded and started the Brave Browser project, and perhaps this could happen again, though a bit more easily, especially with various flavors of BSD available.
Hat Tip: Pixy Misa.