Charlie Gard, a baby suffering from a horrible disease in the U.K., had a chance to receive experimental treatment, funded completely by private donations. Rather than allow little Charlie's parents to fight for the very life of their child a British judge condemned the child to death.
Now, the European Court of (so-called) Human Rights has condemned the child to die based on the vague and nebulous idea of "dignity"―according to the angles of death members of the court―outweighs a persons inalienable right to life.
"The parents of terminally-ill baby Charlie Gard are 'utterly distraught' and facing fresh heartbreak after losing their final appeal in the European Court of Human Rights.

"Chris Gard, 32, and Connie Yates, 31, wanted to take their 10-month-old son – who suffers from a rare genetic condition and has brain damage – to the US to undergo a therapy trial.

"Doctors at Great Ormond Street Hospital for Children in London, where Charlie is being cared for, said they wanted him to be able to 'die with dignity'.

"But the couple, from Bedfont, west London, raised almost £1.4million so they could take their son to America but a series of courts ruled in favour of the British doctors.

"…

"[O]n Tuesday afternoon, the ECHR rejected a last-ditch plea and their 'final' decision means the baby's life support machine will be switched off.

"The ECHR announced the application to the court by the parents was 'inadmissible' and added that their decision was 'final'."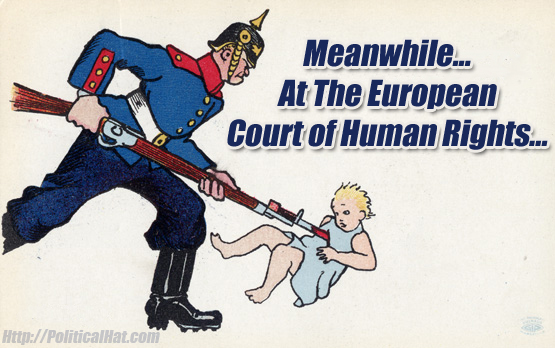 The experimental treatment was, in the judgement of the court, would not help. It is experimental treatment. It is a long shot at best, but what reason is there to deny a long-shot at living, particularly when that long shot is already funded, and by private donations at that?
The excuse is the vague and nebulous term "dignity". According to the court, the child's life was worth less than zero because the perceived pain of the child was too great to bear, not for the child to bear (of course) but for the court to bear. No, this idea of "dignity" allows that state to strip a person of all rights, even the right to live, because of the detached and high-minded mewlings of human rights denying members of the European Court for Human Rights.
That a continent full of bloviating pseudo-moralizing wastes of flesh that hypocritically whine about murderous scum being executed in the United States while waxing poetically how the state condemning the innocent to execution is a paragon of virtue and "human rights" does nothing but demonstrate the total inversion of sanity, rationality, and morality in Europe.
R.I.P., little Charlie, R.I.P.