Right in time for the 2016 Summer Olympics, Brazil is ready to display to the world just how corrupt and messed up its government is (with bonus Zika and hookers)!
The Speaker of the Brazilian House, Eduardo Cunha , who led the charge against of impeachment of Brazilian President Dilma Rousseff in the lower house, was himself suspended by the Brazilian Supreme Court from his position.
Why would they do such a thing?  Because the acting leader of the House decided to unilaterally reject the overwhelming vote of the body!
"[Brazil's Acting House President] Waldir Maranhão alleges that the chamber's previous vote against Ms. Rousseff was flawed; Senate president dismisses move as 'joke'"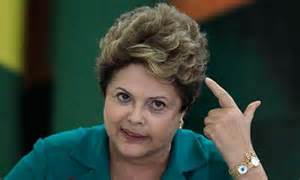 Of course, the Brazilian Senate is taking a hard line with a hefty "f**k you" to this move:
"Senate leaders vowed to defy the decision on Monday, promising to decide the president's fate this week anyway. Lawmakers on both sides of the issue said they would rush to the Supreme Court, hoping for an answer on whether the impeachment proceedings would move forward as planned."
And the Senate impeached Rousseff, automatically causing the suspension of her Presidency, with the Vice-President taking over for not-more than six months, pending a full trial and potential removal of Rousseff.
Unsurprisingly, like most socialists, Rousseff is ranting about how a Constitutional removal as President is somehow a "coup".
This has become typical for the Left when one of their favorite Presidents cum dictators is legitimately removed, as was the case in Paraguay and Honduras.
But then, it just goes to show, yet again, that the Left loves democracy… until it is no longer useful.