The current Secretary of Navy wants to purge every "man" in the Navy and Marine corps he can… the word "man," that is:
"The Marine Corps has been ordered to come up with a plan to make its enlisted entry-level training coed, and to make its job titles more gender-neutral following the recent move to open all military combat roles to women.

"In a Jan. 1 memo to Marine Commandant Gen. Robert Neller, Navy Secretary Ray Mabus requested a "detailed plan" on how the service will fully integrate its boot camp and Officer Candidate School. The plan is due Jan. 15 and will be implemented by April 1, the memo states.

"'The Department of the Navy's implementation plan must include gender integration of Marine Corps enlisted recruit training and officer candidate school,' Mabus wrote. 'In this submission, identify where, if anywhere, this training is already integrated, where it is separate, and specific steps that you will take to fully integrate these trainings.'

"In a second memo from Mabus to Neller on the same day, the SecNav directed the Marine Corps to conduct a full review of its military occupational specialty titles in an effort to ensure that they are gender neutral."
While they are not intending, yet, to change "iconic titles" like "midshipman", the memos are a step toward that, and part of the attempt to fully integrate women in to the services:
"'As we achieve full integration of the force … this is an opportunity to update the position titles and descriptions themselves to demonstrate through this language that women are included in these MOSs,' Mabus wrote. 'Please review the position titles throughout the Marine Corps and ensure that they are gender-integrated as well, removing 'man' from the titles and provide a report to me as soon as is practicable and no later than April 1, 2016.'"
The integration of women with complete commingling of men and women the administration can get away with:
"Mabus has been persistent in his effort to fully integrate women into combat roles. In September, Mabus dismissed a Marine Corps study that found women performed significantly worse than men in combat operations, refusing to ask Defense Secretary Ash Carter for exemptions for the Marines or the Navy SEALs.

"Carter in December ordered the military to open up all combat jobs to women despite arguments from the chairman of the Joint Chiefs of Staff that certain ground combat jobs in the Marine Corps stay closed to female service members."
The ironic thing is that the word "man" is actually gender neutral in origin and can still be used in the gender neutral sense:
"Traditionally, many writers have used man and words derived from it to designate any or all of the human race regardless of sex. In fact, this is the oldest use of the word. In Old English the principal sense of man was 'a human,' and the words wer and wyf (or wæpman and wifman) were used to refer to 'a male human' and 'a female human' respectively. But in Middle English man displaced wer as the term for 'a male human,' while wyfman (which evolved into present-day woman) was retained for "a female human." Man also continued to carry its original sense of 'a human,' resulting in an asymmetric arrangement that many criticize as sexist."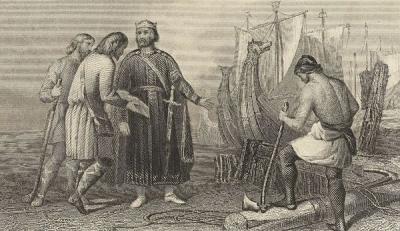 In other words: Spricaþ Ænglisc oþþe áfær!