The "Big Lie" is defined as:
"A big lie (German: Große Lüge) is a propaganda technique. The expression was coined by Adolf Hitler, when he dictated his 1925 book Mein Kampf, about the use of a lie so 'colossal' that no one would believe that someone 'could have the impudence to distort the truth so infamously.'"
In essence, a lie is created and established via propaganda and indoctrination of such a magnitude, that it supplants reality, and any fact contrary to the lie is summarily ignored.  As a corollary, and minor lie consistent with the big lie is treated as absolute truth.
#HandsUpDontShoot is the "Big Lie" of our modern age.
Despite the evidence, weighed by a Grand Jury given the independence to thought and determination for which it is properly due, indicating that the shooting of Michael Brown was an act of self-defense against an aggressive attacker, rather than a child trying to surrender with hands up, the "Big Lie" that Michael Brown had his hands up in surrender while being slaughtered by a "racist" police officer has become sacrosanct truth amongst the "useful idiots" of the Progressive cause.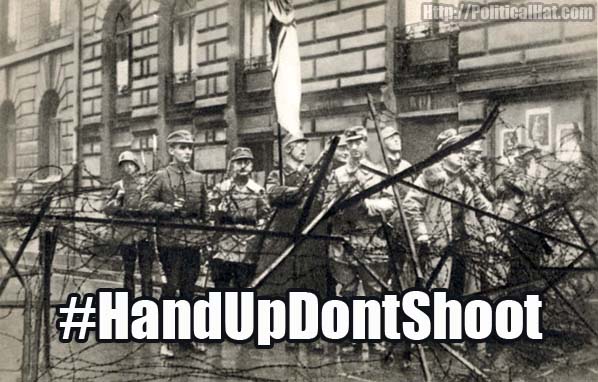 Evidence, "facts," and reality itself has become an enemy for the "truth" of the Progressive narrative of the police being enforcers of the oppressive intersectional crushing of "the people."
Children are now being indoctrinated into treating druggie thug Michael Brown as some type of saint, particularly when it comes with the de facto affirmation of the President of the United States.
Politically Incorrect speech is denounced, while calls for violence and rioting is affirmed as sober and acceptable… when it serves the Progressive narrative.
Ultimately, this is about creating a narrative, or worldview, that is consistent with the Left's "Big Lie" from which people can only see "fact" and reality itself through the distorted lens that the Progressive elite deem proper.
Of course, it doesn't retard the Left's push of their favored narrative when the truth, that is contrary to the proffered "truth," is crushed with the assistance of the vengeful and violent mob.
#HandsUpDontShoot has become the modern day equivalent of "two legs bad; four legs good":  A simple "Big Lie" with which the masses can be indoctrinated, and thus manipulated by any "believer" who can slip in whatever little lie they can get away with.
Orwell and Huxley were optimists…