It has become a tradition for the President to "pardon" a Turkey before Thanksgiving.  This tradition has extended to the state and local level.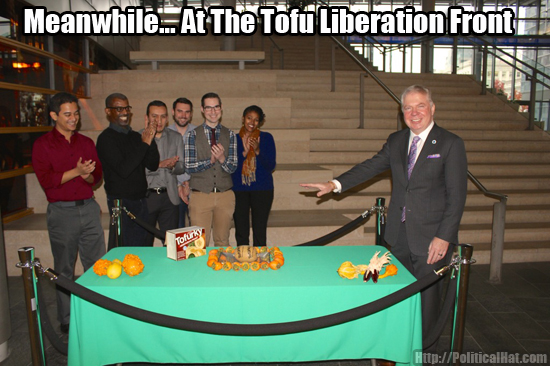 The Mayor of Seattle has also granted a pardon… to fermented bean curd:
"Today Mayor Murray pardoned Braeburn the Tofurky and challenged the Seattle City Council to a food drive.

"'I, Mayor Murray, pardon Braeburn the Tofurky,' the mayor proclaimed in the atrium of Seattle City Hall.

"Braeburn the Tofurky will live out its natural life at the Rainier Valley Food Bank, the beneficiary of the food drive between Seattle City Council and the Mayor's Office. Braeburn will be joined by his understudy, Honeycrisp."
There is nothing more that could possibly be added to that to make it seem anymore ridiculous than it already is.