Another "quick takes" on items where there is too little to say to make a complete article, but is still important enough to comment on.
The focus this time: Your children will be queer whether you like it or not.
First, a little mood music:
Carrying on…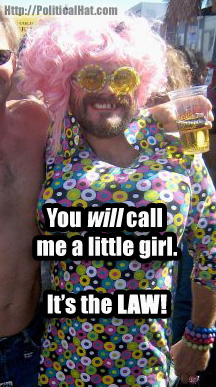 If you live in California and your child says they are transgender, you will soon have a choice of either chemically sterilizing them or having the state take them away to mutilate your kids themselves.
"The California State Assembly has approved a bill, AB 957, making gender affirmation a factor to be considered in child custody cases. The bill, passed on Friday by a vote of 57-16, was previously approved by the California Senate with a vote of 30-9.

"This new legislation, titled the Transgender, Gender-Diverse, and Intersex Youth Empowerment Act, seeks to prioritise the "health, safety and welfare" of children, placing a spotlight on affirming a child's gender identity. The bill, initially introduced by Democratic Assemblywoman Lori D. Wilson on February 24, underwent amendments in the Assembly on March 13 and further modifications in the Senate on June 5 before its final approval.

"Under the proposed law, parents, who fail to acknowledge and support their child's gender transition, could face potential consequences, including the loss of custody rights to another parent or even the state itself."

Why are they doing this?
Because parents are starting to fight back… and win.
"Jessica Konen won a $100,000 judgment against the Spreckels Union School District in Monterey County, Calif., after they secretly 'socially transitioned' her daughter, permitting her to use the boy's bathroom and male pronouns without her knowledge or consent.

"'If you choose not to fight for your children, then they will fight and take your children,' Jessica Konen said in a statement following the ruling. 'Stand up parents, it's your right to be able to parent your own children.'

"Konen's lawsuit, assisted by the conservative non-profit Center for American Liberty (CAL), argued that after Alicia joined the school's 'Equality Club' in Grade 6, she began learning 'LGBT concepts' as well as exploring transgenderism and bisexuality. Shortly afterward, the school actively abetted Alicia's social transition, 'giving her articles on how to conceal her supposed new gender identity from her mother and giving her a "Gender Support Plan" that required school staff to refer to her by a male name,' the organization notes.

"Alicia's mother was reportedly kept in the dark while educators in Spreckels District pushed the girl to identify her frustrations stemming from not abiding by how she 'truly felt inside.'"

It's not just one parent.
"Under Gov. Gavin Newsom, California, has enacted policies endorsing 'transgender' identity over the broad concerns of critics who claim the policies threaten parental rights, fairness in women's sports, and the long-term health of children. Those critics have launched a new strategy to counter the gender ideology policies by going directly to the voters of the state.

"Protect Kids California, a coalition of parental rights advocates and others who oppose gender ideology, filed three ballot initiatives Monday for the November 2024 ballot, aiming to circumvent the Golden State's Legislature.

"The ballot measures require schools to notify parents if their children claim to identify as transgender, prevent biological males from entering women's spaces and sports, and forbid medical professionals from putting kids on experimental drugs or performing surgery on them to "affirm" a gender identity opposite their biological sex."
TTFN.