Another "quick takes" on items where there is too little to say to make a complete article, but is still important enough to comment on.
The focus this time: The People's Republic of California strikes again!
First, a little mood music:
Carrying on…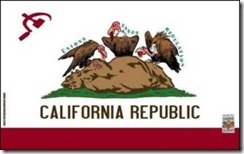 Even if the current California Legislature Grand Soviet doesn't appropriate the money, California—which entered the Union as a free state and never went through a territorial phase—approves of handing over $800,000,000 in "reparations".
"California is still wrestling with the whole reparations question and has been for quite a while now. But yesterday, the task force assigned to look into the matter took a series of votes and approved several recommendations. None of these are moving immediately into law, but they are intended to inform the legislature so that final proposals can be voted on. They agreed on some form of apology and cash reparations. They didn't specify an amount, but an earlier version of the proposal called for payments of at least $360,000. Of course, this plan would only apply to Black residents and not any other minorities. And the total bill would add up to more than two and a half times the state's entire annual budget, even as California faces a significant budget shortfall."

Now you can snitch on evil haters who exercised their 1st Amendment rights to express wrongthink!
"California has launched a new hotline for residents to report 'hate acts.'

"Last Thursday, Gov. Gavin Newsom (D) and the California Civil Rights Department announced the launch of CA vs Hate. Through the hotline, Californians will be able to snitch on their neighbors for committing "hate acts," which the service explicitly states do not always include violence.

"'A hate incident is a hostile expression or action that may be motivated by bias against another person's actual or perceived identity,' the website states. "'erpetrators may be motivated by different discriminatory biases, including, but not limited to; bias based on race, color, disability, religion, national origin, sexual orientation, or gender, including gender identity.'

"Some examples of 'hate incidents,' according to the website, are 'refusing service,' 'derogatory name calling,' and bullying.

"The new hotline, Newsom explained, is 'an unequivocal message that hate will not be tolerated' in California."

What happens when you live in a hellhole and have the means to escape?
"For the third year in a row, California's population has declined. The population decline in 2020 which started this new trend was the first time ever in the history of the state.

"…

"People vote with their feet and just because California has a long history of growth doesn't mean that trend will continue."
Do you really blame them?   Unfortunately most will continue to vote for the type of candidates who now run California.
TTFN.