The "racial equity" indoctrination is more widespread than many people realize. Not even an Executive Order from the President can stop it at state/local government or private companies. Case in point: The total take over of Seattle and Kings County, Washington by the ideology of "racial equity" and the Critical Race Theory that underlies it.
Racial segregation, systemic inequality, and open discrimination and harassment the official policy of many of the government organs in and around Seattle.   Christopher Rufo has yet again done yeoman's work uncovering leaked documents that prove the "wokeness" that has metathesized throughout the Seattle area.
"At the King County Library System, a private consulting firm called Racial Equity Consultants recently held racially-segregated 'listening sessions' as part of the library's ongoing racial justice programs. The consultants 'begin with an anti-oppression framework' and use segregated sessions in order to root out 'institutional privileges and systemic inequities embedded in the current socio-political conditions that influence and affect our institutions.' The consultants discovered widespread 'institutional racism' in the library system—and dismissed employees who reported 'not experiencing or witnessing racism while working at KCLS' as likely suffering from the false consciousness of 'internalized racism.' When reached by e-mail, Racial Equity Consultants said it was not authorized to comment.

"At the Veterans Administration Puget Sound facility, the local leadership has launched a series of racially-segregated 'caucuses' for 'individuals who identify as white,' 'individuals who identity as African American or Black,' and 'individuals who identity as people of color.' According to whistleblower emails, the organizer of the sessions, Dr. Jesse Markman, initially 'felt uncomfortable suggesting, as a white person, what [he] perceived, at the time, to be segregation.' However, after consultation with outside diversity trainers, Markman decided to move forward with the racially-segregated sessions, calling them 'an environment for sharing and discussion, which is not afforded by mixed groups.' When contacted by e-mail, Dr. Markman referred the inquiry to the VA's Public Affairs Office, which did not provide comment.

"Finally, at the King County Prosecutor's Office, Prosecutor Dan Satterberg and senior staff have recently required employees to sign a 'equity and social justice' pledge and assigned 'continued training for white employees,' who must 'do the work' to 'learn the true history of racism in our country.' As part of the new initiative, white employees are encouraged to participate in racially-designated 'white antiracist action groups,' as well as agency-wide 'cultural competency' training that teaches them to how to 'accept responsibility for their own racism, sexism, [and] hetereosexism.' According to leaked emails, Satterberg recently wrote a letter to staff declaring that the 'privileged white male cohort' in his office should 'shut up and listen to the truths of those impacted by racism,' then commit to the program of 'antiracism.' The prosecutor's office confirmed the authenticity of the equity pledge and staff-wide memo, but Prosecutor Satterberg did not offer comment."
Yet again we see paid consultants who get paid crudloads of money to peddle their bigotry. But this insanity has become embedded within organizations who use innocuous or even positive sounding words (e.g. "equity") while peddling inequality and collective racial shaming in what is known as a "Motte & Bailey" fallacy.
In response, the King County Library System offered a non-apology apology.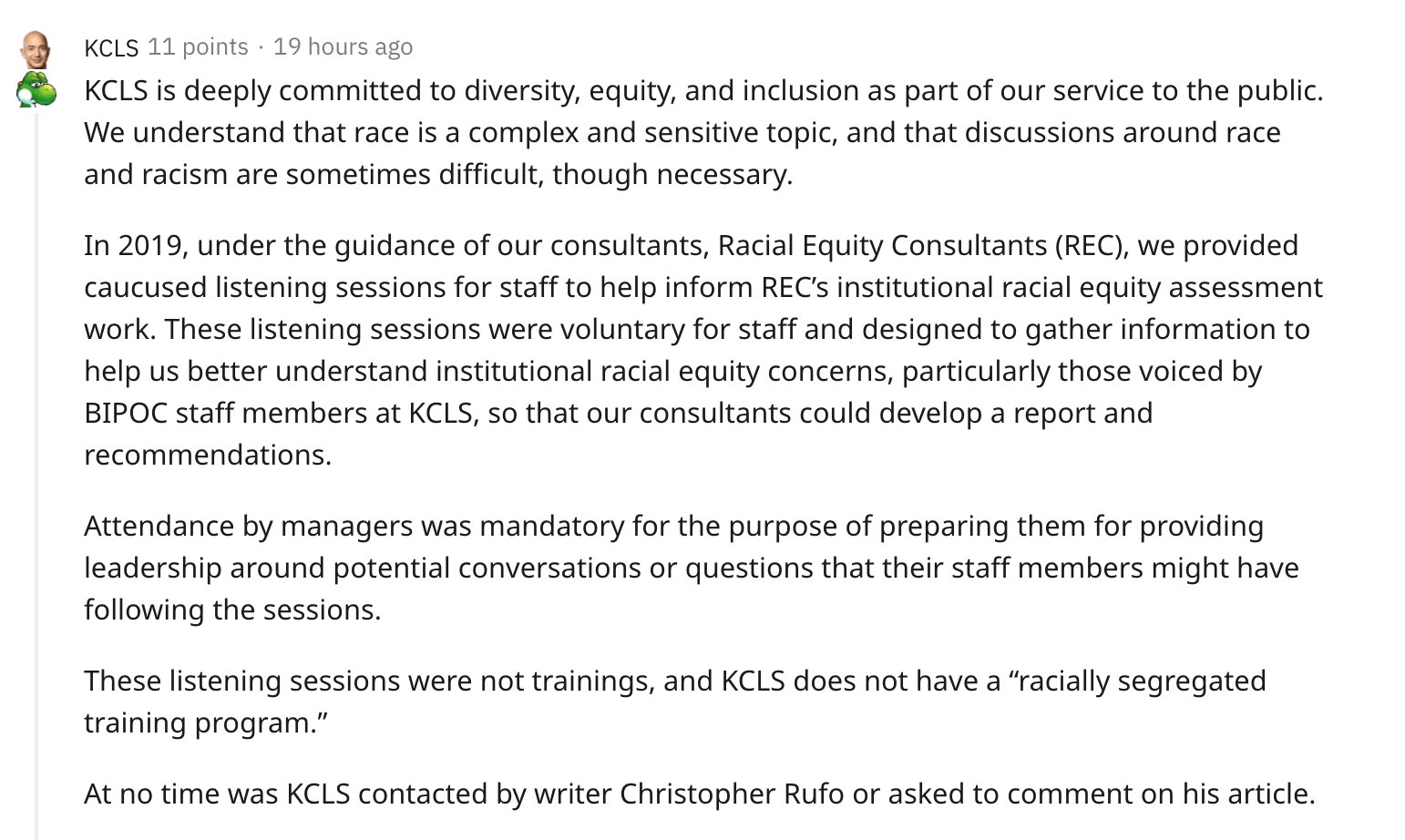 Notice how they use words like "diversity" while peddling ideological uniformity, words like "equity" but avoid words like "equality", and "inclusion" while they push segregation. It's Orwellian.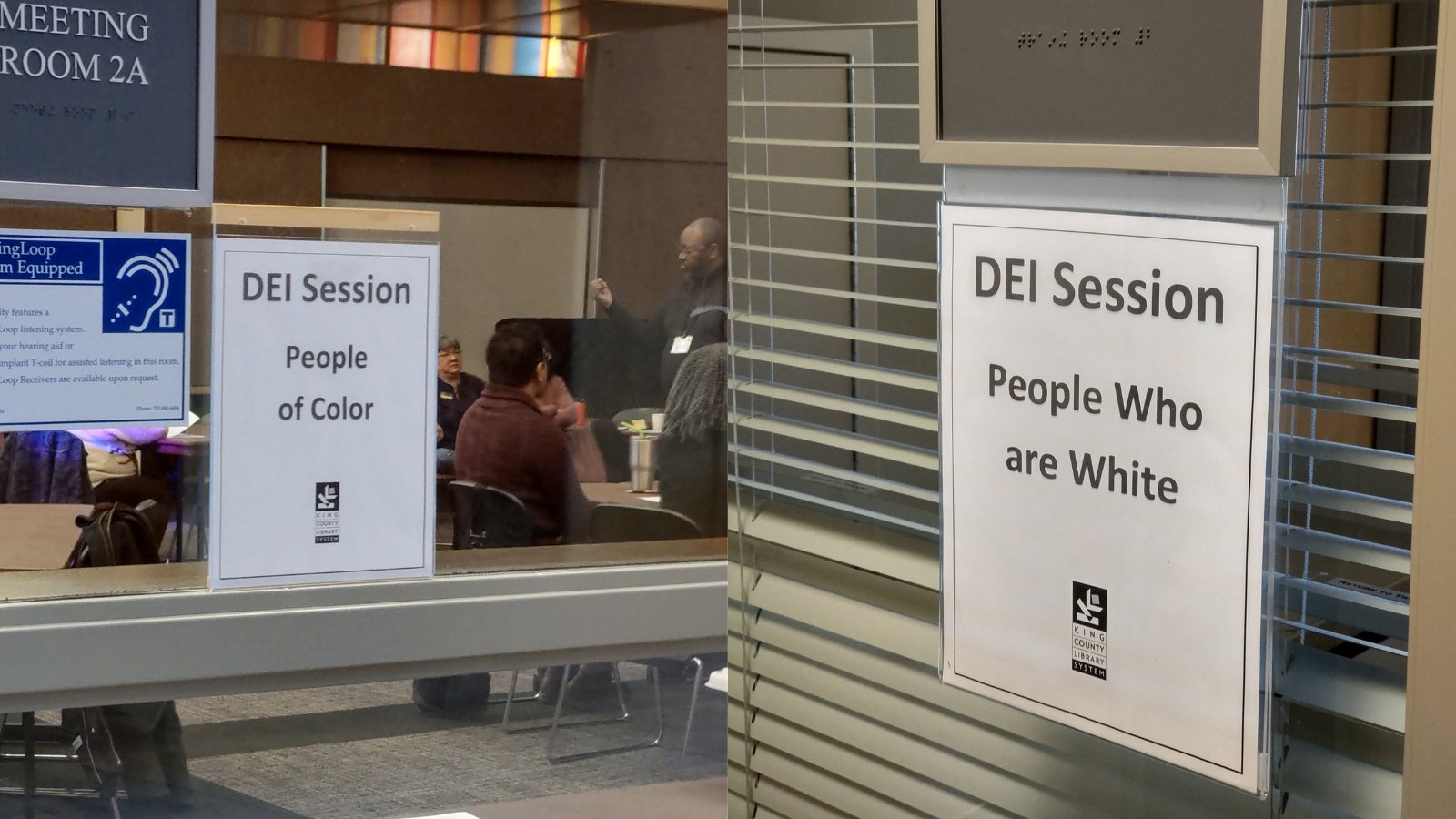 The documents can be viewed on Mr. Rufo's site or bellow collected in downloadable PDF files.
King County Library Systems… by ThePoliticalHat
Puget Sound VA Racially Seg… by ThePoliticalHat
King County Prosecuting Att… by ThePoliticalHat
King County's Prosecuting A… by ThePoliticalHat
King County Prosecuting Att… by ThePoliticalHat
Culture's Connecting "What … by ThePoliticalHat