The beauty of a free market is that goods and services are exchanged with mutual benefit to both parties, which leads to efficiency, lower cost, and better options. Because this produces wealth, this leads to an ability to help those who don't have the financial needs to cover necessities.
However, California is applying the alleged "logic" of rent control to… healthcare.
"In one of the most aggressive efforts in the nation to curb soaring healthcare spending, a new California measure would put the state in charge of setting prices for hospital stays, doctor's visits and most other medical services covered by commercial insurers.

"…

"The measure, which will be unveiled at a news conference Monday, would establish a commission that would set rates for healthcare services based off what the government pays for such services under Medicare.

"The commission, which would be an independent state entity, would determine the rates for all services covered by commercial health plans, including those offered by employers to their workers and those sold in the individual marketplace. Public health programs, including Medicare and Medicaid, would not be affected by those price caps."
If you set rates below the value of the services provided, people will stop providing those services, by either moving out of state or refusing to do business in California.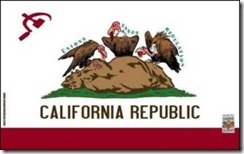 That absolute control would be held by an unselected commission of rubber-stamping sinecure holders makes this even more dangerous.
It gets worse:
"Dietmar Grellmann, a senior vice president with the California Hospital Assn., called the appeals process 'an empty promise.'

"'The whole purpose of this bill is to reduce payments to hospitals,' Grellman said. 'No matter what happens, they're taking money out of the system. All the appeals process would do is adjust the amount of losses.'

"The measure also would require the commission to track all health expenditures in the state and set a goal for those costs in the future. That approach, known as 'global budgeting,' would allow the state to keep track of overall spending and intervene if that trajectory seems too high."
The state would be mandated to track all health expenditures and to micromanage healthcare based upon that data. <sarcasm>What could go wrong?</sarcasm>