Climate Change due to CO2 and only CO2 is a neo-religious tenant, which denies dissent and assumes a divine revelation of truth. Canada, under "little Trudeau" has launched a "competition bureau" which decided to use its time and budget to… investigate climate heretics: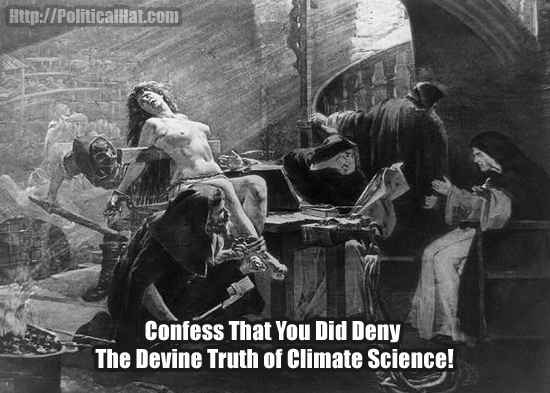 "Canada's Competition Bureau, an arm's length agency funded by Prime Minister Justin Trudeau's government to the tune of almost $50 million annually, investigated three organizations accused of denying mainstream climate science for over a year, following a complaint from an environmental group.

"…

"The complaint was filed by Ecojustice on behalf of six "prominent" Canadians, including former Ontario NDP leader and UN ambassador Stephen Lewis.

"It accused three groups, Friends of Science, the International Climate Science Coalition, and the Heartland Institute of making false and misleading claims about climate change, including that the sun is the main driver of climate change, not carbon dioxide, and that carbon dioxide is not a pollutant.

"When it launched its complaint in December, 2015, Ecojustice told the National Observer it would press the Commissioner of Competition to refer the matter to the Attorney-General of Canada for 'criminal charges against the denier groups'."
This is just adopting (IIRC), Thomas Aquinas' views on scientific investigations: Anything can be considered and hypothesized, but if it conflicts with divinely revealed scripture, then the divinely revealed truth must be right and the contrary hypothesis must be wrong.
At lest they haven't yet brought out the… comfy chairs!