Hillary Clinton is promising to "reset" capitalism, and under the guidance of the state be put into "balance":
"Capitalism itself,… [Hillary Clinton] said, "needs to be reinvented, it needs to be put back into balance.'

"Her speech, delivered at New York University's Stern School of Business, was the sort of numerate wonk-fest that's come to characterize her early campaign — an effort aimed in part at comparing favorably with the sprawling free-for-all on the Republican side. It also helped advance the argument she aims to make the substantive centerpiece of both her bid and her presidency: Addressing economic inequality is the defining challenge of our time.

"…

"Clinton called for regulators to finalize the Dodd-Frank requirement that companies list the ratio of executive to worker pay."
Hillary! has taken a distinctly totalitarian tone: "Campaign advisers say Mrs. Clinton's goal is chiefly to change investor behavior"
While some may fear a communist style authoritarianism, her plan is more of a third way:
"It is not reactionary but revolutionary, for it anticipates the solution of certain universal problems which have been raised elsewhere, in the political field by the splitting up of parties, the usurpation of power by parliaments, the irresponsibility of assemblies; in the economic field by the increasingly numerous and important functions discharged by trade unions and trade associations with their disputes and ententes, affecting both capital and labor; in the ethical field by the need felt for order, discipline, obedience to the moral dictates of patriotism.…

"[She] desires the State to be strong and organic, based on broad foundations of popular support. The… State lays claim to rule in the economic field no less than in others; it makes its action felt throughout the length and breadth of the country by means of its corporative, social, and educational institutions, and all the political, economic, and spiritual forces of the nation, organized in their respective associations, circulate within the State."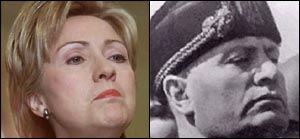 The Left praised it openly before, and are doing so again.