The latest special little snowflake describes "vaer-self" with a laundry list of delusions and mental illnesses:
I'm agender, meaning I don't have a gender basically, and I have severe dysphoria.
I'm panromantic asexual and on the aromantic spectrum
I'm in a quasiplatonic relationship with this adorable doe who I love more than anything <33
I'm an oriental short clawed otter therian and also a zombie. I explain both of those things in more detail in my FAQ page.
I'm autistic, and I have anxiety disorder (general and social), chronic tic disorder, chronic migraines, and I'm psychotic with lots of delusions (mostly paranoia-based). I'm also a trauma-based system and have disordered eating.
How "strong" each special interest is changes frequently, but they're mainly various video games, animes, or movies. Currently, they're Ib and In the Flesh.
I also like Neopets, a few animes (especially Free!, Hetalia, Deadman Wonderland, and Black Butler), and a few video games (especially Spyro the Dragon, multiple RPGs, Five Nights at Freddy's, and The Darkest Faerie)
Seijuurou Mikoshiba (Free!), Senji Kiyomasa (DMWL), Garry (Ib), and The Mangle (FNaF) are my problematic favs
Simon/Kieren (ITF) is my OTP
Music wise, I love Steam Powered Giraffe, Lou Reed, and (pre-80s) David Bowie
I'm INTJ and a Sagittarius. Also I love to write and NaNoWriMo is my favorite thing. Here's my writing blog!
In full: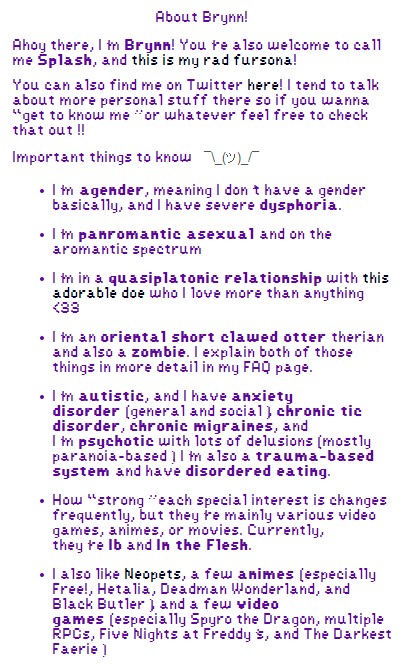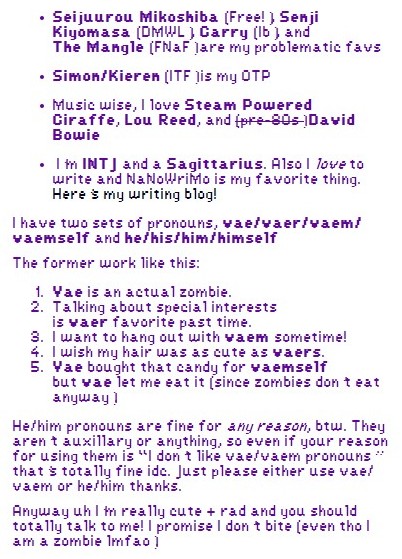 Unsurprisingly, out little autistic zombie otter self-describes as a "loser."

No kid, you just need mental help…