In 2004, a little known Illinois State Senator ran for the U. S. Senate. They seat was being vacated by Republican Peter Fitzgerald, who, though not unpopular, quite due to disgust with the local Republican Party leadership. The Republican candidate to replace Fitzgerald was Jack Ryan, whose candidacy imploded due to leaks from sealed divorce records. Combined with a well received speech at the 2004 Democratic National Convention, Barack Obama, a state Senator without any real accomplishments, was able to launch himself into the Presidency.
That 2004 Convention speech ought to have been a fair warning that Obama was dangerous because he was a far-left extremist who could nonetheless appeal to the majority of voters.
Today, we have the same fair warning about another far-left extremist who could nonetheless appeal to the majority of voters: Newark Mayor Cory Booker. Booker is looking to repeat Obama's feat. Booker comes across as a can-do moderate without the haughtiness of Obama. Booker is thus far more dangerous then Obama ever could be.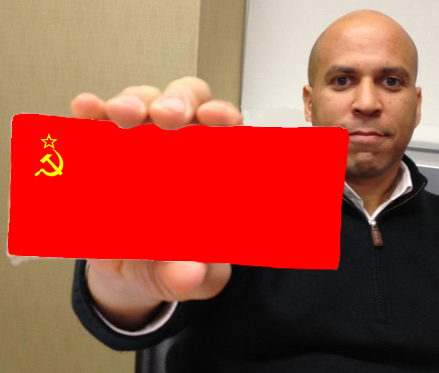 While Booker may seem that he is a likable "moderate," he has already outed himself as an extreme leftist who believes in a "justice" where "equality" of outcome is to be mandated.
We still have a chance to stop him before he becomes unassailable and takes the Presidency, but time is short. Booker is looking like he will run for the U. S. Senate in 2014. He has also begun laying the ground work to take the Presidency.
We have our best chance to stop him NOW. Booker is likely far more dangerous than Obama ever could be. He must be stopped by all legal means available. We have been warned of his extremism and his nonetheless likability. Let us not ignore it like we did with Obama.