Another "quick takes" on items where there is too little to say to make a complete article, but is still important enough to comment on.
The focus this time: California is coming for your kids, no matter the cost.
First, a little mood music:
Carrying on…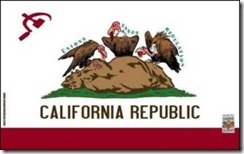 In California, a student is taught to agree with a teachers delusions and lie about objective reality… or face "restorative justice".
Glendale high school students suspended for 5 days for "misgendering" teacher, and then undergo "restorative justice (RJ)" education. Any comment on this @GlendaleUSD ?#gusdparentsvoices pic.twitter.com/RcTCLRPJRL

— GUSD Parents Voices (@gusdparents) July 5, 2023
Unsurpringly, the school didn't let a little think like the 1st Amendment or even statutory law get in the way.

Yes, California is coming for your kids.
A Mom tearfully describes how California kidnapped her daughter and administered testosterone to her, instead of giving her therapy. Her daughter, suffering untreated mental health conditions, then killed herself by stepping in front of a train. pic.twitter.com/mrpubNPWLp

— Dane (@UltraDane) June 26, 2023

Education means "equity" in math and "meaning-making" more broadly. This is indoctrination, pure and simple.
"The California State Board of Education voted to adopt a new—and much-debated—math framework on Wednesday, concluding a years-long process that involved three drafts, prompted hundreds of suggested revisions, and reignited decades-old arguments over the purpose of math education and the meaning of equity.

"The 1,000-page framework aims to put meaning-making at the center of the math classroom, promoting a focus on problem-solving and applying math knowledge to real-world situations. It also encourages teachers to make math culturally relevant and accessible for all students, especially students of color who have been traditionally marginalized in the subject.

"'The United States has not been teaching math effectively or equitably. We are one of the lower-achieving countries … and California is below the national average in its achievement in mathematics,' said Linda Darling-Hammond, the president of the California State Board of Education, during the board's meeting on Wednesday. 'This is an area of great need, and change is imperative. The same old, same old will not get us to a new place.'"
TTFN.