Another "quick takes" on items where there is too little to say to make a complete article, but is still important enough to comment on.
The focus this time: Only an "antiracist" teacher could believe in "segregation now, segregation tomorrow, segregation forever"
First, a little mood music:
Carrying on…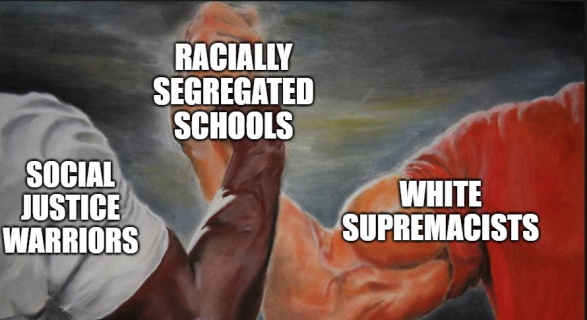 Centennial Elementary public school in Denver is promoting a "families of color playground night" where non-White parents can meet and chat free from any icky White people.   Oh, and the school fully supports this and said they'd do it again. Moreover:
"Denver Public Schools […said] that black families at one of the district's elementary schools requested that the school provide a 'families of color playground night' for black families to meet other black families.

"A spokesperson for Denver Public Schools said that Centennial Elementary school leaders met with "some of the Black families whose children attend" Denver Public Schools (DPS) and they requested a separate, segregated space to meet one another.

"'Some of these families shared with us that, since the only time many of them see one another is at drop-off and pick-up times, we host some events where Black families can meet one another, connect with one another and share their experiences about the school with one another,' […].

"Pribble said that the school was 'honoring their request,' though the school maintains that 'all families are welcome to attend all of [the school's] events.'"
Others noted the irony of what was once the bane of the Civil Rights Movement has become a paragon of wokeness.
How it started. How it's going. pic.twitter.com/0AoMrxB80p

— James Lindsay, account with nearly 300k followers (@ConceptualJames) December 14, 2021

Want to teach?   Better not be a person of pallor.
BREAKING: A public high school in suburban Chicago has created a racially-segregated field trip program for "students of color." pic.twitter.com/n7yOdgdjSj

— Christopher F. Rufo ⚔️ (@realchrisrufo) December 16, 2021

Yet again demonstrating that Asians are the new White when it comes to segregation.
"A Manhattan junior high school plans to racially separate students while discussing identity and social justice topics next week, The Post has learned.

"The Lower Manhattan Community School will conduct the controversial exercises as part of its mission to "undo the legacy of racism and oppression in this country that impacts our school community," according to an email sent to parents.

"Kids in grades seven and eight will opt into one of five categories, Principal Shanna Douglas wrote in the message.

"Whites, Asians, and multi-racial students have their own categories, while African-American and Hispanic students are combined into one group, according to her email.

"'On November 23rd and 24th, 7th and 8th graders will explore the question "How do our racial identities influence our experiences?" in affinity groups,' Douglas announced. 'An affinity group is a group formed around a shared interest.'"
TTFN.