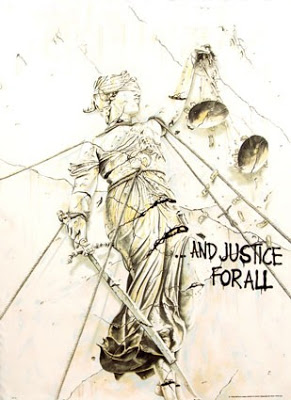 Those who try to excuse Critical Race Theory as merely an "obscure legal theory" seem to ignore that fact that in more and more law schools, Critical Race Theory is quickly becoming the central tenet of the legal profession if not the whole of the law.   Aaron Sibarium, of the Free Beacon, examines the materials and requirements of Georgetown Law School, which is intended to be a "model" for other law schools.
"At most law schools, the first few weeks of property law are spent on foundational cases of British common law. At Georgetown University, they are spent on structural racism and cultural appropriation.

"Students in professor Madhavi Sunder's mandatory first-year course learn on day one that the history of American property law is 'the history of dispossession and appropriation,' according to videos of the course reviewed by the Washington Free Beacon. Lecture slides from the first month of coursework trace the 'birth' of modern property law not to English courts, but to 'Native dispossession and the enslavement of African Americans.' 'Possession,' one slide asserts, 'is a legal term of art for a settler capitalist society.'

"These legacies of oppression 'continue in contemporary doctrines' of property, Sunder said on the first day of class this semester. For example, her slides explain, 'Intellectual Property has a cultural appropriation problem,' especially when it comes to black choreographers: Their dance moves were allegedly appropriated by the popular video game Fortnite, and by white influencers on TikTok.

"To help her students conceptualize the problem, Sunder quotes the 'antiracist' author Ijeoma Oluo, who defines cultural appropriation as the 'adoption or exploitation of another culture by a more dominant culture.' Students are then asked to apply this definition to intellectual property law, according to the slides.

"Sunder wasn't just putting her own spin on a stereotypically dry class; she was also laying the groundwork for a sweeping transformation of the law school curriculum.

"In September 2021, Georgetown Law's faculty voted to adopt a new 'institutional learning outcome': All students will be expected to graduate with the 'ability to think critically about the law's claim to neutrality and its differential effects on subordinated groups, including those identified by race, gender, indigeneity, and class,' according to a faculty motion reviewed by the Free Beacon.

"These themes, the motion states, are 'foundational knowledge' that 'should be advanced throughout the entire first-year curriculum.' To that end, the motion directs a number of administrators—including the "Associate Dean for Equity and Inclusion"—to 'identify first-year professors' who already 'advance the new institutional learning outcome' in their courses. Sunder is one of those professors: She told her students that her course would 'satisfy' the new requirement, as would "many other property classes" at Georgetown."
There is, of course, much more of this madness in the article.
And if there was any doubt that this is indeed Critical Race Theory, we see all three core requirements for Critical Theory, not only the praxis (here it is the indoctrination of increasingly more and more future lawyers) and the reflection (also part and parcel of the curriculum), but the presumption of an evil that must be identified and targeted.
The certification process will "require a detailed examination of the course's syllabus" by the associate dean for academic affairs, "in close consultation with the Associate Dean for Equity and Inclusion." pic.twitter.com/8W7aWSEYMh

— Aaron Sibarium (@aaronsibarium) March 30, 2022
Who will defend the Constitution in court if all the lawyers and the judges have been fully indoctrination with this poisonous wokeness? This is how they play the long game.