Despite legal shenanigans by the Brazilian Supreme Court, the Brazilian Senate, previously having voted to suspend President Dilma Rousseff by a 55-22 vote, has now voted to formally indict her and begin an impeachment trial by a vote of 59-21.
"Brazil's Senate voted overwhelmingly on Wednesday to indict President Dilma Rousseff on charges of breaking budget laws and to begin an impeachment trial that is expected to oust her from office and end 13 years of rule by the Workers Party.

"With the eyes of the world on the Olympic Games in Rio de Janeiro, senators in the capital Brasilia voted 59-21 against the suspended leftist leader in a raucous, 16-hour session that began on Tuesday.

"Her opponents mustered five votes more than they will need to convict Rousseff at the end of the month, allowing interim President Michel Temer to serve the rest of her term through 2018.

"The result showed Rousseff had even less support in the Senate since the 55-22 vote to suspend her on May 12. She is charged with manipulating government accounts and spending without congressional approval, which her opponents say helped her win re-election in 2014."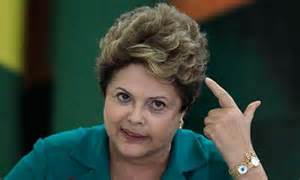 Unsurprisingly, Rousseff is blaming this on "a right-wing conspiracy that used an accounting technicality to illegally remove a government that improved the lot of Brazil's poor".
Um, no.
Using the checks and balances afforded by Brazil's Constitution is neither a technicality nor a conspiracy.  It is a proper republic working properly.
*Looks at United States Congress*