Rotherham has become infamous for the city's covering up of the child sex slavery rings because they were committed by those of [REDACTED] ethnicity and [REDACTED] religion.  Turns out that an even bigger city has been quashing the truth in order to protect child sex slavers for decades was revealed not that long ago:
"Birmingham City Council 'buried' a report linking Asian private hire drivers to child sexual exploitation victims 23 YEARS ago, the Mail can reveal.

"Researcher Dr Jill Jesson was asked by the authority to look at the issue of child prostitution involving girls in care back in 1990.

"The following year, after six months research, she produced a critical two-part report which showed child protection failings by social workers and other agencies.

"Her report also highlighted claims that some Asian private hire drivers were linked to the sexual exploitation of young white girls in care, including some who had been cautioned for prostitution offences.

"Yet when Dr Jesson presented her draft findings to a steering group, she was ordered to remove all reference linking ethnicity and the private hire trade.

"Incredibly, her full amended final report was never published. A meeting planned to discuss it was cancelled – and all copies were to be destroyed."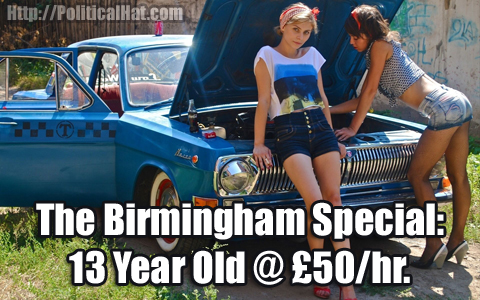 Since that report was quashed twenty-four years ago, things have gotten worse.
"[A]n official West Midlands Police report – completed in August 2012 – had shown that 75 per cent of known on-street groomers in the region were [South] Asian, while 82 per cent of girl victims aged 14 to 16 were white."
But the truth, no matter how inconvenient, is still the truth, no matter how much one tries to ignore it.