The introduction of the private casting of ballots served to protect the voter against any and all who would apply pressure on the voter to vote a certain way… or else.
The prohibition on photographing one's ballot before casting was intended to ensure that no one could force you to provide proof that you voted a certain way in order to receive some benefit or avoid some punishment.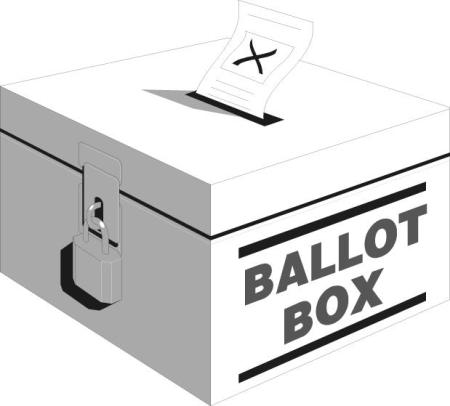 Sadly, in this "selfie" obsessed degraded electorate, the "right" to be put into a position where you can be forced or cajoled into voting a certain way trumps any and all attempts to have fair and honest elections:
"It is against the law to take a selfie with your freshly cast ballot in the voting booth on election day, but one California assemblyman is trying to change that.

"Marc Levine, of California's 10th Assembly district representing Marin and Sonoma counties, announced on Monday his intent to propose legislation to legalize "ballot selfies.'"
This means nothing less than the empowerment of those already in positions of authority to demand proof that the voter voted as they were told to do.  That enforced privacy was their only protection.
Some judges, though, see this as matter of the 1st Amendment:
"In Indiana, fines for ballot selfies reached $10,000, until a judge barred authorities from enforcing the law against it, citing freedom of speech. In her ruling, U.S. District Judge Sarah Evans Barker wrote:

"'Over the course of the eighty-seven years that have passed since he sounded this warning, neither the truth nor the importance of his observation has waned. If anything, they have increased and expanded and, as is apparent from the issues before us in this litigation, assumed a new urgency.'"
Here's my #BallotSelfie because it's legal in Indiana right now! #ElectionDay pic.twitter.com/ZBgd1ItVmg

— Joe Tamborello (@joetamborello) November 3, 2015
When one has the right to vote, they also have the duty and obligation to exercise their own informed mind.  Now, it would seem that the sacred duty of being an elector and entrusted with the franchise is of less importance that yet another idiotic "selfie".
The enforcement of privacy exists to protect the voter from duress or enticement.
Your humble author has personally seen attempts by union goons try to take photographic evidence of "correct voting".  Your humble author has even seen union members walk in and loudly shout who they voted for.
Your humble author witnessed union member come in to a polling station and ask for a "I voted" sticker because they were required by their union to show proof that they voted.  Just how bad will it be when the union bosses can demand not just proof of voting, but proof of voting for the correct candidate.
This is not a partisan concern.
What stops an employer, using the "right" of an employee taking a selfie, to punish or reward the employees?
What stops a union boss, using the "right" of an employee taking a selfie, to punish or reward the union member?
What stops a pastor, using the "right" of an employee taking a selfie, to punish or reward a parishioner?
What stops a college, using the "right" of an employee taking a selfie, to punish or reward a professor?
No one is forcing you to vote.  Take the franchise seriously to go take your f**kin' selfie elsewhere!