Happy Flag Day!
There are many historical flags associated with the United States, particularly during the War of Independence.
One such flag is the "Serapis" Flag. This is the flag used by Captain John Paul Jones on captured British ship Serapis.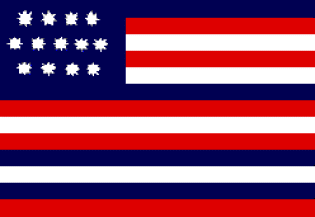 "This ship was captured following the famous sea battle between the 'Serapis' and the 'Bonhomme Richard' in which the latter's flag staff was blown away; the British Captain asked if Jones had struck his colors; and Jones replied 'Struck, Sir? I have not yet begun to fight!' The 'Bonhomme Richard' was so badly damaged that it sank with its colors flying. After putting into the Dutch port of Texel for refitting, the British authorities in the Netherlands demanded Jones be arrested as a pirate since he flew no known flag. The Dutch replied that they would consult their archives. Sometime between then and a few days later when they replied to the British that they had evidence in their files that the flag used on the 'Serapis' was a recognized flag and that Jones would be allowed to refit, a painting of this flag (and that of the Alliance) was made. Besides the unconventional use of blue stripes as well as white and red, if you examine the painting closely you will see there are 12 eight pointed stars and one seven pointed star on the flag."
For Freedom.