News of the Week for July 13th, 2014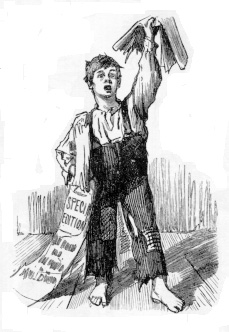 Election 2014
Meet Sean Haugh, the Libertarian pizza guy who may deliver a Senate seat in N.C.
But every other week or so, the Libertarian Party's Senate nominee in North Carolina opens a few craft beers on the counter of the bar in his campaign manager's basement. He takes deep gulps from a pint glass bearing an image of Austrian-school economist Murray Rothbard and expresses his Everyman frustrations with the current political system into a video camera.
Slate Gushes Over Ex-Con Democrat Who Had an Abortion: 'Rising Star in the Democratic Party'
Well, the Democrats really hit the jackpot here: Latino, tattooed, did prison time and proudly talks of having an abortion. Can we just cut to the presidential rumors already?
Gay Group Snubs Independent LGBT Champion, Backs Gay Democrat with Weak Record on Issues
Last November, a six-term Democratic congressman responded to a "whisper campaign" by publicly revealing his homosexuality. He's running for governor of Maine now, and one of his opponents, an Independent heterosexual, cried foul when an LGBT political activist group backed the newly outed Democrat, instead of him.
Democrats Are Running Out of States to Flip
White voters in Georgia, Arizona, and Texas are becoming overwhelmingly Republican, while Hispanic turnout continues to lag.
Meet the Republican Who Could Take Hawaii Away From Democrats
A three-way race and an unpopular incumbent are giving the state's GOP a real chance of winning the Governor's Mansion.
Obama Scandals
Is Jamie Gorelick in on IRS scandal, too?
Exclusive: Jack Cashill notes 'Mistress of Disaster' is vice chairwoman of Urban Institute
Smoking gun in IRS political targeting
Shocker! Leftist group paid to review right
Andrew Klavan: Which Scandal is Which?
In which our host, Andrew Klavan, interviews a member of the main stream press about the scandals plaguing the Obama Administration.
TSA Allowing Illegals to Fly Without Verifiable ID, Says Border Patrol Union
Illegal aliens are being allowed to fly on commercial airliners without valid identification, according to the National Border Patrol Council (NBPC). "The aliens who are getting released on their own recognizance are being allowed to board and travel commercial airliners by simply showing their Notice to Appear forms," NBPC's Local 2455 Spokesman, Hector Garza, told Breitbart Texas.
Did Lois Lerner commit extortion under US Code Title 18 section 872?
Because he posed a threat to Dick Durbin's US Senate election in 1996, Illinois Republican Al Salvi was threatened by a United States government official. That official was Lois Lerner and she was using her position as a representative of the Federal Election Commission. In the course of her FEC inquisition of Salvi for alleged election law violations, Lerner made a statement that amounts to extortion.
Gun Rights
Hunting Photos Glorify Violence, but 'Kill Kendall Jones' Facebook Page Apparently Doesn't
Facebook recently removed the controversial pictures of Texas cheerleader Kendall Jones with animals that she had hunted in Africa.
Va. Dem. offers reward for nude photos of hunter-cheerleader Kendall Jones
Mike Dickinson, the Virginia liberal Democrat seeking the House seat currently held by Rep. Eric Cantor, R-Va., despite not being on the ballot, offered a $100,000 reward for nude photos and videos of Kendall Jones, the 19-year-old Texas Tech cheerleader who recently made news with a series of hunting photos on her Facebook page.
Murder rate drops as concealed carry permits rise, study claims
A dramatic spike in the number of Americans with permits to carry concealed weapons coincides with an equally stark drop in violent crime, according to a new study, which Second Amendment advocates say makes the case that more guns can mean safer streets.
Do Gun Owners Have Any Rights Which Liberals Are Bound to Respect?
Opponents of gun rights underestimate what's at stake.
L'Oreal Severs Ties With Viral World Cup Model After Crass Hunting Photo Emerges
L'Oreal has ended its contract with 17-year-old World Cup fan Axelle Despiegelaere, who landed a modeling deal with the world's biggest beauty company after photos of the attractive teen cheering Belgium went viral.
Hide the Decline
Environment &
"Green Energy"
Government Data Show U.S. in Decade-Long Cooling
The National Oceanic and Atmospheric Administration's most accurate, up-to-date temperature data confirm the United States has been cooling for at least the past decade. The NOAA temperature data are driving a stake through the heart of alarmists claiming accelerating global warming.
The Mean Girls of Global Warming
Someone sent me a clip from John Oliver—a nebbishy British version of Jon Stewart—arguing that global warming skeptics don't deserve a hearing because 97% of scientists supposedly back the claims of catastrophic man-made global warming.
Coldest Antarctic June Ever Recorded
Antarctica continues to defy the global warming script, with a report from Meteo France, that June this year was the coldest Antarctic June ever recorded, at the French Antarctic Dumont d'Urville Station.
A way of calculating local climate trends without the need for a government supercomputer
This method may or may not have merit – readers are invited to test the merit of it themselves, the method is provided
The Beer Identity
It's morning here in Reno, and I thought I'd write a bit more about the Kaya Identity and the Beer Identity. My last post about the Kaya Identity was controversial, and I wanted to see if I could clarify my point.
Obamacare
Government in Healthcare
Will the Supreme Court get another shot at Obamacare?
The Supreme Court last week chipped away at one part of the Affordable Care Act, but its ruling in the Hobby Lobby contraception case left most of Obamacare intact. Other court cases, however, are making their way through the court system in an attempt to deliver a more fatal blow to the controversial law.
War & Terror
China thinks it can defeat America in battle
But it overlooks one decisive factor
HELLO CALIPHATE!
Islamic Front military chief Zahran Alloush uses a Hello Kitty notebook
The World's Longest Minefield Isn't Where You Think It Is
1,500 miles through a forgotten wasteland
Taiwan diplomat fears China-Japan 'explosive' incident
China's territorial dispute with Japan over a chain of uninhabited islands in the East China Sea could lead to an "explosive" confrontation, Taiwan's top diplomat in the United States warned Wednesday.
National
WaPo bias: Children of gay couples are "happier, healthier"
Cherry-picking and twisting research to say what you want to believe
The College Board, the Common Core, and "the world without America"
Years ago, Richard Rorty, the left-wing pragmatist philosopher, defended the leftist slant in university instruction by arguing that it was an antidote to the rah-rah, pro-American indoctrination students received in high school. In Hegelian-Marxist terms, high school instruction was the "thesis," college instruction was the "antithesis," and students could work out their own "synthesis."
Appeals court rules immigrant 'dreamers' can get driver's licenses
A federal appeals court ruled Monday that young adult illegal immigrants whom President Obama has given tentative permission to be in the country — so-called "dreamers" — are also entitled to driver's licenses and ordered Arizona to issue them.
Report: Costco Is Removing Conservative Author's Bestselling Book From Its Stores Nationwide
Costco Wholesale, the second-largest retailer in the United States, has apparently decided to remove all copies of Dinesh D'Souza's bestselling book, "America: Imagine a World Without Her," from its stores nationwide, WND reports. The decision to yank the book, if true, would coincide with the theatrical release of D'Souza's new film of the same name last week.
$225,000.00 for Hillary Clinton to Speak at the Univerity of Nevada
They say that conservatives tend to be more charitable. Hillary Clinton tends to take more from charity it seems. She charged $225,000.00 to speak to the University of Nevada at Las Vegas. It's wonderful she can charge that much, but perhaps she should have cut a deal with the taxpayer funded university. After all, she is deeply concerned about the rising costs of tuition for students.
Mexican-Flag-Waving La Raza Terrorists Arrive In Murrieta 'To Protect The Children'
An image posted by an activist who is protesting against the arrival of illegal immigrants in the flash point town of Murrieta shows the arrival of La Raza militants adorned with the Mexican flag.
Hideous Pro-Abortion Beast Goes Nuts on Pro-Life Activist (Major Language Warning)
Ah, liberal tolerance, isn't it wonderful? Remember now, it's right-wingers who are extremist or something.
Cunningham wins freedom early
Former Congressman was to have federal monitors for two more years
Mexico, Guatemala fast-track delivery of illegals to U.S.
New 'Regional Visitor Card' grants permission to travel to Rio Grande
UAW decides to skip election and form union at VW anyway
I just returned from another trip to Tennessee where I was able to catch up with a few folks from the Volkswagen plant in Chattanooga and see how things were developing. The conversations there had shifted quite a bit from earlier in the year when the vote regarding UAW unionization was raging, and recent reports make it clear that the big auto union isn't going to be content with licking their wounds from their recent loss. As Ed reported back in April, the UAW had withdrawn their request for a hearing before the National Labor Relations Board, which some saw as a sign that the fight was pretty much over.
9-Year-Old Boy Beats Government Bureaucrats: Wins Freedom to Run His Own Little Library
As a Mother's Day gift, 9-year-old Spencer Collins built a cute little box and put it on a pole in front of his house, stocking it with books. He attached a little sign "Take a Book, Return a Book."
Ex-staffer: CFPB run like a 'plantation'
A former employee of the Consumer Financial Protection Bureau (CFPB) on Wednesday compared the workplace atmosphere to a "plantation," because of how black employees such as himself were treated.
Christian College May Lose Federal Funding over Letter to Obama
The accreditors who control what schools have access to federal funding are reviewing a Christian college whose president signed a letter to President Obama pertaining to religious freedom and an executive order about gay rights.
Female Yahoo exec accused of sexual harassment from female
Sexual harassment complaints aren't uncommon in the tech industry, but a new one at Yahoo is making headlines because of an unusual twist: A female executive is accused of coercing a female subordinate into sex.
Illegal immigrants flown to Bay State
Sheriffs warn move may threaten safety
Human Traffickers Are Asking HHS for Immigrant Children
Individuals associated with human trafficking organizations are asking Health and Human Services officials to hand over the children who have immigrated to the United States during the recent border surge, according to a congressman who toured a facility where the children are being housed.
Economy & Taxes
Russia Rushes To Seal Ukraine-Bypassing Gas Pipeline: Lavrov Pays Bulgaria A Visit
As we remarked two weeks ago, when observing the recent developments surrounding the suddenly all-important South Stream gas pipeline bypassing Ukraine entirely, and instead traversing the Black Sea before crossing Bulgaria, Serbia, Hungary and terminating in the Austrian central European gas hub of Baumgarten, we said that all of Europe is suddenly focused on if and how Russia will make headway with a project that may be the most important one for not only Europe's energy future but the impact Russia will continue to have over Germany et al. And of course, Ukraine. Because should Russia find a way to completely bypass Kiev as a traditional transit hub for Russian gas, it would make the country, and its ongoing civil war, completely irrelevant not only for Russia, but worse, for Europe, the IMF, and Ukraine's staunch western "supporters and allies" as well.
Food Prices Are Soaring And Washington Doesn't Care
Today's economy is driven by Washington in more than just determining the location of Maserati dealerships. We see the ramifications of current government policies in numerous obvious ways. Make full-time employment more expensive with required benefits, and suddenly there are more part-time jobs; provide ample benefits and low eligibility standards for defining disabled workers, and suddenly there are more long-term unemployed going on SSDI; keep interest rates at zero, and suddenly there are more elderly workers; end unemployment insurance, and suddenly you see people accepting jobs they were reluctant to take; and as we've seen at the state and local level, raise the minimum wage, and suddenly teens are struggling to find work.
Washington Pot Stores Open, But Some Activists Aren't Celebrating
Initiative 502 author dismisses concern about 'Soviet style' market
The Tax Treatment of U.S. Citizens Abroad Is Absurd and Unfair, and Getting Worse
The Wall Street Journal has an article today about the nightmare faced by Americans living abroad trying to comply with the U.S. tax code. America is one of the few countries that taxes its citizens living abroad on their income earned there, which means that expatriates have to file taxes in the country where they live and in the U.S. Most people can claim a credit on their U.S. returns for foreign taxes paid, but this doesn't generally eliminate the double taxation of part of their non-U.S. income. This whole issue is likely the main reason behind a recent increase in Americans trying to renounce their citizenship.
International
Eduard Shevardnaze, former Georgian president and Soviet foreign minister who helped topple the Berlin Wall, dies at 86
Eduard Shevardnadze, a groundbreaking Soviet foreign minister and later the president of an independent Georgia, died Monday at the age of 86, his spokeswoman said.
Fresh Al-Shabaab raids near Kenya's coast kill 29 as foreign tourist shot dead
Somali-based Islamists say they carried out deadly new attacks weeks after 73 died close to Lamu island
Tony Abbott confirms Australia and Japan will sign free trade agreement
PM says deal will be formalised during Shinzo Abe's visit – but Labor calls for more scrutiny of the costs and benefits
Slouching Towards Post-Democracy
An interesting, if somewhat technical, story emerged in the EU's parliament yesterday.
Bert and Ernie gay marriage cake leaves Christian bakery facing court threat
Christian bakery facing legal action from equality quango for refusing to make cake with Sesame Street characters saying 'support gay marriage'
Ukraine threatens rebels with 'nasty surprise' in new push
Ukraine's government kept up military pressure against pro-Russian rebels on Tuesday, threatening them with an "nasty surprise", while the militants said they were preparing to fight back after losing their main stronghold.
Shariat courts have no legal sanctity: Supreme Court
The Supreme Court held on Monday that fatwas issued by Muslim shariat courts (Dar-ul-Qazas) do not have legal sanctity and cannot be enforced if they infringed on the fundamental rights of an individual.
Hate-speech laws a 'tool of totalitarianism,' lawyer warns
During a recent event discussing the origin and implementation of European hate-speech laws, lawyers argued that the "ill-conceived" laws pose a danger to free speech and often stifle constructive dialogue.
50 new Ebola cases in 2 African nations
The U.N. health agency says there have been 50 new Ebola cases in Sierra Leone and Liberia since last week as the disease, among the deadliest in the world, keeps spreading in West Africa.
More than 50 bodies, including 2 children, found in Iraq
Iraq witnessed another violent day Wednesday as the country's security and political crises deepen.
Girl In Iceland Cannot Get Passport Because She Does Not Have a Government-Approved Name
More oppressive government, this time from Iceland
Australian judge says incest may no longer be a taboo
Judge in Australia says incest may no longer be a taboo and the only reason it is criminal is potential birth abnormalities, which can be solved by abortion
Rape case shakeup on cards this election
Fundamental pillars of the criminal justice system may be eroded whichever party wins the election this year, as both National's and Labour's proposals would look into changing the right to silence or the presumption of innocence in rape cases.
Brand UKIP: A Success Despite Itself
What does UKIP stand for? If you ask the members you'll receive a range of conflicting answers wider than the sun. If you ask the media, half will call us closet racists and the other half will return a snort of derision and disparaging comments on UKIP's current lack of a manifesto.
Opinion
Carly Fiorina ends the War on Women
When it comes to the Sunday morning talking heads festivals, I tend to jump around a bit these days. And even with the slim pickings available, one of the ones I rarely seem to wind up watching is State of the Union on CNN with Candy Crowley. Generally it's only on my television if I'm watching CNN for the overnight highlights and am too busy or lazy to change the channel at 9 o'clock. But that's what happened today and I'm rather glad I did. The subject at hand was the never ending War on Wimminz being perpetrated by the evil Republican Party, but the guest was Carly Fiorina, former CEO of HP.
'Internalized Misogyny'
That interesting phrase occurs in a long essay by a woman who "spent three years living as male, a year and a half on testosterone" as part of female-to-male "transgender" therapy before deciding to stop the hormones and "de-transition"
Mike Rowe: The Hero America Needs Right Now And The One It Deserves
'Dirty Jobs' star Mike Rowe recently took to his Facebook page to right an overlawyered injustice.
One-party Rule is No Party in California
Forty years ago, Mexico was a one-party dictatorship under the Partido Revolucionario Institucional, hobbled by slow growth, soaring inequality, endemic corruption and dead politics. California, in contrast, was considered a model American state, with a highly regarded Legislature, relatively clean politics, a competitive political process and a soaring economy.
The Battle of Murrieta
The well-oiled machinery of citizenship-destroying government was in the process of making a regularly-scheduled delivery of illegal aliens to the town of Murrieta, California last week when a group of unhappy local residents turned up, and engaged in what our friends on the Left used to describe as the essence of patriotism: they staged a protest. They prevented several busloads of illegals from entering the designated housing facility, obliging said buses to re-route and drop their payload in someone else's community.
If Government Gives Contraception, Government Can Take It Away
To rely on government to mandate contraceptive coverage is to give government the power to control contraception.
Our Conservative Popular Culture
Does the Left really have a monopoly on storytelling today?
The Border Crisis Is Obama's Mariel Boatlift
I've been on vacation the past week (the Monterey Bay Aquarium is lovely, by the way) but the few times I checked the headlines, the big story was the border crisis.
I'm an Alien — and Proud of It
Because words have meaning.
What Is Radical Feminism? 'Make Deviance the Core of Our Identity'
Some people are ahead of their time, and Julia Penelope Stanley — who dropped her heteropatriarchal surname early in her career as a radical feminist academic, author and activist — was an angry lesbian man-hater before being an angry lesbian man-hater was cool.
Language Restrictions Will Ultimately Decide The Immigration Debate
As language in which allowable political debate can take place gets manipulated for disingenuous purposes, certain opinions are increasingly disallowed. You will be made to care. We see in the quote selected above what happened in the marriage debate when the Left got to dictate the linguistic terms of debate. We've gone from "Marriage is between one man and one woman" to "If you can't keep it in your pants, at least keep it in the family." Why will the Left win on every major issue of the day? The Right will self-censor and give them victory. George Orwell describes what takes place when someone gets control of debate language in 1984?
Saturday Morning Thread – The Rant Edition
OK, I had a much better post on one of the central political issues of our time planned-freemen vs serfs- but I didn't write it yet and it's getting late. I'll probably write that one for next week. Instead I thought I talk about buying tires.
Reform Conservatism and the Culture War
After my foray yesterday into the specific case of Paul Ryan, let me return to broader critiques of reform conservatism, picking up threads from E.J. Dionne's long essay on our little movement and some of Andrew Sullivan's comments this week. I first read Dionne's essay some time ago and intended a long point-by-point rejoinder; I've read so many (far harsher, less thoughtful) critiques since, however, that upon re-reading the essay seemed marvelously fair-minded, and worth recommending even if I obviously have disagreements with its substance.
Contemptible corporate cowardice
There is a difference between defending and condoning controversial but nevertheless free expression and policing it. That distinction seems lost on many, particularly those who derive no greater pleasure in life than from converging on a corporate target and demanding the scalp of an employee who ran afoul of social norms or standards of decorum.
Clash of the Titan special interest groups
When Democratic identity political groups collide.
Some Good People Might Be Thrown Out, or Defective Ones Chosen
As I read this New York Times story – 'Fertility Clinics Scan for the Strongest Embryo — about chromosomal testing of in-vitro fertilization embryos, I kept waiting for the counterpoint to the idea that scientists could help create a purer race.
Obama's YOLO presidency descends into parody
At a speech in Austin, Texas, last week, Obama criticized the lawsuit House Speaker John Boehner has announced. The White House obviously thought this was a killer comment and created the above graphic and tweeted it. I suppose if you don't have actual policies or ideas or even a clue sending out self-beclowning tweets is the least harmful thing you can do.