Another "quick takes" on items where there is too little to say to make a complete article, but is still important enough to comment on.
The focus this time: Medicinal executioner offers to reprieve.
First, a little mood music:
Carrying on…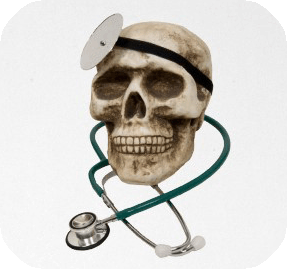 The U.K.'s National Health Service (NHS) has often overruled parents and forcibly let babies die horrible deaths. Now, even an adult in their right mind can be forced to die by the "vaunted" NHS.
"[A]conscious and capable 19-year-old patient, referred to in legal documents as "ST," with an apparent terminal disease has been told by a court that she can't decide to continue life-extending treatment after the hospital sued to be able to move her to palliative care against her will. From the legal ruling involving the National Health Service Trust (my emphasis added):

"'The Trust's case is that ST is "actively dying". It became clear during the course of the oral evidence I heard from Dr A, the consultant leading her care on the ITU, that this assessment does not mean that her death is necessarily imminent. She may have weeks or even months to live. The exact prognosis is uncertain. What is clear from clinical observation is that she has progressive respiratory failure with episodes of acute exacerbation resulting in breathlessness, distress and agitation. The current care plan is based upon the withdrawal of haemodialysis although ventilation will continue.'

"ST is aware of this but wants to keep fighting for her life. Again, from the ruling, by the justice presiding over the case:

"'Despite all the difficulties which currently confront her, ST is able to communicate reasonably well with her doctors with assistance from her mother and, on occasion, speech therapists. Over the course of the last week she has engaged in two separate capacity assessments. I heard evidence from two consultant psychiatrists whose conclusions in relation to her capacity in both domains are set out in full written reports. . . .

"'She has been described by those who know and love her as "a fighter". That is how she sees herself. At the heart of the issues in this case is what ST and her family perceive to be a ray of hope in the form of an experimental nucleoside treatment outside the United Kingdom which might offer her hope of an improved quality of life, albeit a life which is likely to end prematurely in terms of a normal life expectancy. She has told her doctors that she wants to do everything she can to extend her life. She said to Dr C, one of the psychiatrists who visited her last week, "This is my wish. I want to die trying to live. We have to try everything". [Court's emphasis] Whilst she recognises that she may not benefit from further treatment, she is resistant to any attempt to move to a regime of palliative care because she wants to stay alive long enough to be able to travel to Canada or North America where there is at least the prospect that she may be accepted as part of a clinical trial. . . .

"'ST is well aware that she has been offered a very poor prognosis by her doctors. She acknowledges that they have told her that she will die but she does not believe them. She points to her recovery from previous life-threatening episodes whilst she has been a patient at the intensive care unit. She believes she has the resilience and the strength to stay alive for long enough to undergo treatment abroad and she wishes the court to acknowledge her right to make that decision for herself.'

"If patient autonomy is to mean anything, why object? Because even though two psychiatrists told the court that ST has decision-making capacity, the court ruled that she doesn't because she won't accept that there is no hope"

That patient "ST" did die as the NHS commanded. So proud they were that they sought to silence her family from talking about it. However, the family (somehow) won a court battle to openly talk about their own daughter and her death.
"A 19-year-old who died after a legal battle with an NHS Trust over her treatment has been named.

"Sudiksha Thirumalesh had a rare mitochondrial disorder. She launched a legal case against an unnamed NHS Trust over whether she should be moved onto palliative care.

"Her family returned to the Court of Protection on Friday in a successful bid to allow her to be named publicly in relation to the case.

"'It's like drowning. She is able to sense what is happening,' Vikram Sachdeva KC told the court in July.

"The patient died on 12 September after a respiratory and cardiac arrest.

"Mr Justice Peel is expected to rule on Monday about whether the NHS Trust and clinicians who treated her can be named.

"…

"Speaking outside of the Royal Courts of Justice in London after Friday's hearing, the teenager's brother, Varshan Chellamal Thirumalesh, said the family had been "gagged" and 'intimidated'.

"'After a year of struggle and heartache we can finally say our beautiful daughter and sister's name in public without fear: She is Sudiksha. She is Sudiksha Thirumalesh – not ST,' he said."

And yes, the NHS is still killing babies.
"Readers will remember the tragic case of Charlie Gard, a baby boy in the U.K. who was diagnosed with a rare genetic disorder. Doctors at London's Great Ormond Street Hospital told Charlie's parents that his condition was incurable and he had no hope of survival. But his parents, Chris Gard and Connie Yates, found a doctor in New York who was willing to treat Charlie with an experimental therapy. Gard and Yates raised around $1.6 million through crowdfunding to cover the costs, but the London hospital argued that this was not in Charlie's best interests, and that he should be removed from life support.

"Trump's Disgusting Post about Liberal Jews Who 'Voted to Destroy America'

The hospital took Charlie's parents to court where a judge agreed with its decision. Charlie was removed from life support and died soon after.

"…

"In the aftermath of their son's death, Gard and Yates have campaigned for 'Charlie's Law' — legal reform that would 'prevent further long and painful conflicts between hospitals and families with sick children.'

"The need for such legislation has become clearer in subsequent cases. First, there was Alfie Evans, a toddler who died in 2018 at the end of a similar legal dispute which his doctors ultimately won.

"And now with Indi Gregory, a six-month-old baby being treated for the same rare genetic disorder Charlie Gard had, which doctors say she cannot survive and argue that further life support would only prolong her suffering. Her parents disagree. Once again, it will be down to a judge — and not them — to decide a baby's fate."
TTFN.