Another "quick takes" on items where there is too little to say to make a complete article, but is still important enough to comment on.
The focus this time: …and justice for none.
First, a little mood music:
Carrying on…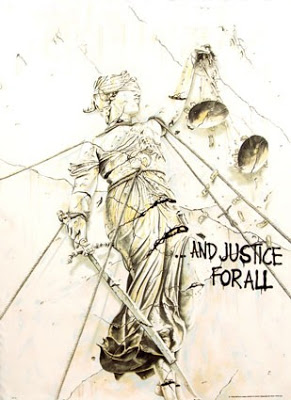 Gunmakers are legally protected from being sued for the misuse of their products. But an aggressive lawyers and a loophole or two is enough for Remington to fork over $73,000,000.
"The suit was first filed against the company in 2014. Claiming wrongful death, the plaintiffs accused Remington of engaging in deceptive marketing tactics in promoting the firearm as a hyper-masculine weapon. One Remington ad depicted the gun with the words: 'Consider Your Man Card Reissued.' The gunmaker denied a casual relationship between the advertising strategy and the tragedy.

"…

"While federal law shields gun manufacturers from some wrongful death litigation, the Connecticut Supreme Court ruled Remington was not immune from liability on the matter of its marketing practices. Remington appealed to the U.S. Supreme Court, which dismissed the opportunity to review the case."

The judge dismissed the case against the NY Times by Sarah Palin was dismissed before the jury reached the verdict, and the judge allowed the jury to continue to deliberate without shielding them from the news of the dismissal.
The result was inevitable… and grounds for appeal.
"A Manhattan federal court jury ruled that the New York Times did not defame Sarah Palin in a 2017 editorial that linked her to a mass shooting in 2011 that killed six people and wounded Gabby Giffords.

"The jury was unanimous in its decision.

"The 2017 editorial was about gun violence and rhetoric. The author 'incorrectly suggested that an ad circulated by Ms. Palin's political-action committee inspired the Arizona spree.'"

Nothing protects a person from the consequences of their actions in raping underaged sex slaves like millions of dollars.
"Britain's Prince Andrew has agreed to settle out of court a lawsuit accusing him of sexually assaulting an underage girl while she was under the control of the sex criminals Jeffrey Epstein and Ghislaine Maxwell, a legal filing revealed Tuesday.

"The amount of money that Andrew has agreed to pay his accuser, Virginia Giuffre, to settle her claims was not disclosed in the filing in Manhattan federal court, where she had sued the Duke of York in August.

"But that document also said that Andrew, 61, will make 'a substantial donation to Ms. Giuffre's charity in support of victims' rights.'"
TTFN.