Happy Flag Day!
Apologies for not posting a Flag Day post last year. I blame Corona-chan.
There are many historical flags associated with the United States, particularly during the War of Independence.
One such flag is the Guilford Courthouse Flag.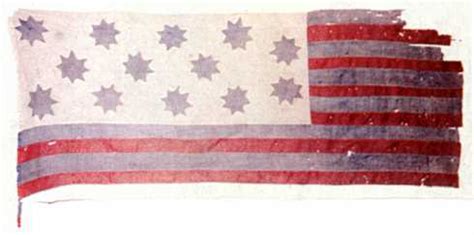 The Guilford Courthouse Flag is the name given to a North Carolina militia banner which was reported to have flown at the Battle of Guilford Courthouse (March 15, 1781, Greensboro, North Carolina). The flag is recognizable by the reverse colors normally seen on American flags: red and blue stripes in the field with eight-pointed blue stars on an elongated white canton.

The unique colors and dimensions are sometimes described as showing a lack of uniformity in a young nation at war, with a poor infrastructure and bad communication. However, it was common practice during the Revolution for military units to carry flags that featured common American symbols (such as stripes and stars), but to make them uniquely identifiable for use as a company or regimental flag. As such, this flag was probably never intended for use as a national flag.

The original flag has been preserved since 1914 in the collection of the North Carolina Museum of History in Raleigh, North Carolina. It measures 42 inches high and 100 inches on the fly. The canton is 35 inches high and 73 inches long. The stars are 8 inches in diameter and have eight points. It is considered the oldest surviving example of an American flag with eight-pointed stars.
For Freedom.