Another "quick takes" on items where there is too little to say to make a complete article, but is still important enough to comment on.
The focus this time: Hitler!!1! You're all Hitler!!1!
First, a little mood music:
Carrying on…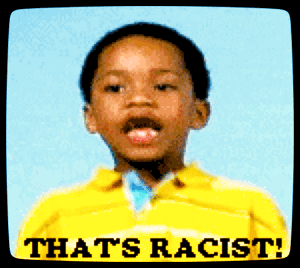 Since free speech encompasses horrible utterances (such as Social Justice rhetoric), it is considered evil because those who are evil (such as Social Justice advocates) can't silence dissenters while true free speech is protected.
"A University of North Carolina at Chapel Hill professor recently called free speech racist and said he worries that if a Democratic presidential candidate wins the 2020 election it could spark another Civil War.

"Eric King Watts, an associate professor of communication studies, made the comments during his keynote speech "Tribalism, Voicelessness, and the Problem of Free Speech" that kicked off a two-day conference on free speech.

"'Democracy needs free speech, but it is increasingly vulnerable to its excesses,' Watts said in his speech.

"'I will first set forth how freedom of speech is implicated in racism by linking its historical contingency to the production of blackened flesh,' Watts said. 'I will demonstrate how racism produces its uneven distribution of capacity and debility….'"

Of course, pesky parents who don't want their kids brainwashed are an impediment to the brainwashers, and thus must be designated as racist.
"A social justice schooling program meant to train teachers in eliminating racial disparities between students also instructs them how to treat individuals who disagree with the program's ideas, ordering them to 'explicitly reject and resist' parents and other outsiders who take issue with the curriculum's content.

"A spokesperson for the company refused to directly address this mandate even after being asked about it multiple times.

"The program, called 'Deep Equity,' is offered by Corwin Press, a subsidiary of SAGE. According to its website, the program was developed by Gary Howard, a self-proclaimed civil rights activist with experience in 'social justice, equity, education, and diversity.'"

"Diversity" is often touted as the be-all end-all of collegiate pursuits. But there is no greater racist threat to "diversity" than actual intellectual diversity…
"The basic idea is to have public universities create offices of Public Policy Events, which would be charged with organizing debates, panel discussions, and individual lectures designed to explore widely debated public-policy issues from divergent and competing perspectives. So, for example, the office might arrange debates on issues like trade, immigration, abortion, the Green New Deal, or single-payer health care. The office would also invite individual speakers to address such issues at different times and from different perspectives.

"The Office of Public Policy Events would publish a calendar listing all the events it organized, with the topics and speakers, and would make videos of its events available to the public. Academic departments and student groups could go on as usual inviting any speakers they like, with no requirement for balance. The Office of Public Policy Events would also publish a record of all public policy-related events on campus. This comprehensive list would give taxpayers, parents, and students a good sense of the extent of intellectual diversity available in campus public events."
TTFN.