It's prediction time!  My "official" prediction for the 2012 election are below.  I've typically not been a "Pollyanna" but I'm going to go out on a not-too-pessimistic prediction.
President.  Romney win with 296 EV, with Obama getting only 242.  Romney will win all the McCain states, and easily add back Indiana, North Carolina, Florida, and Virginia.  I feel that Ohio and Colorado will go Romney, but by narrower margins than the other states.  That is enough to win.  I think he'll also add New Hampshire, Wisconsin, and Iowa by a hare.  I'm also going to throw in the wild card of ME-2 (Maine is one of two states to split their electoral votes: one per district, and two for the statewide vote).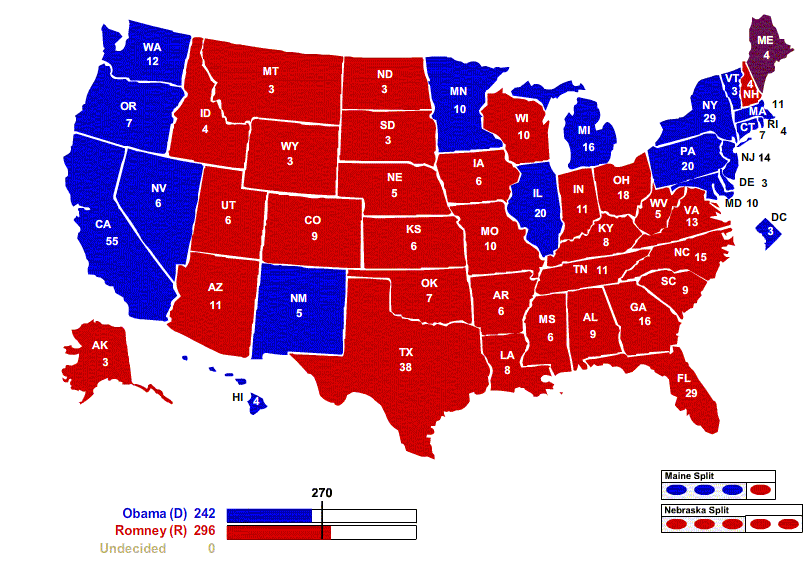 And now, for everything else.
In the U.S. Senate, the Republicans repeatedly shot themselves in the foot.  They ought to have been on the verge of their largest number of Senators since the Harding administration.  They will, however, still gain seats since they had so few to screw-up over.  The Republicans will pick-up, with decreasing ease, Nebraska, North Dakota, Montana, Wisconsin, and Virginia.  The Republicans will lose Maine to an "independent" and also very narrowly Massachusetts.  The Democrats will also change Connecticut from Democrat caucusing Independent to a Democrat, though by a narrow margin.
If it turns out that there is a Romney landslide, Connecticut, Pennsylvania, Massachusetts, Ohio, Michigan, and Missouri might be in play.
The House of Representatives will stay firmly in Republican hands, with the Republicans making a small net gain of less than ten seats.
I am making the prediction that both Washington and Maine will vote in Gay Marriage, but Maryland will very narrowly defeat it (for now).
And now my predictions for Nevada.
Obama will win the state, but by less than half of what he did before.  My reasoning it thus:  The Democrats early voting lead in raw numbers is about 49K statewide, which is about 7% of the early votes (and early absentee ballots collected/counted by Saturday morning).  I believe that the Republicans will do much better on election day, and if it follows the voting trend of 2008, this will shrink to about 5% of the vote.  I believe that Romney will get more Democrat votes than Obama will of Republicans, though independents will be more evenly split, with only a slight edge for Romney due to American Independent Voters NOT voting for Obama.  Throwing in the "None of the Above" option, and a 3-4% win is likely.  This is assuming that there will be not magnificent ground game from the Republicans, since that has not been evident so far.  The biggest drag on the Republicans in the Silver State, and what has most likely cost Romney the state, is the current status of the Civil War going on in the Republican party.  The state and Clark County GOP have acted almost as a net negative for Republicans to the point where Romney, Heller, &c. had to set-up a shadow party (i.e. Team Nevada), just to compete.
This brings us to the Senate race.  Sen. Heller has usually been polling 3-6% ahead of Romney.  As such, I am predicting a very narrow with for Heller over Auton-American Shelley Berkley (D – Nestene Consciousness).  In the house races, Former Rep. Titus is a cinch for the heavy Democrat District NV01, just as Rep. Amodai is a cinch for NV01.  Rep. Heck will win re-election in NV03 by a near double digit margin.  This brings us to NV04.  It is a very Democrat district comprising of North Las Vegas for most of the population, and a plethora of rural counties to bring up the population to its necessary representation.  NV04 was supposed to be an easy district for outgoing state Sen. Horsford.  However, Danny Tarkanian has been doing very well here, with an appeal both to Republicans in the rural counties, as well as in the inner city due to his connection with both the community, and his famous father.  However, Tarkanian will fall short by about 4%.  Horsford will most likely win all subsequent elections until the next redistricting.
I am also predicting no net change for the Nevada state Senate.  Republicans should win SD in Washoe County where Sen. Brower will defeat Leslie, and SD18 in north-west Clark County where Hammond will defeat Ross.  The three other state senate seats are SD5 and SD6 (currently held by Democrats), and SD9 (which the Republicans won in 2010 before redistricting, but is up do to a vacancy).  I'm going to say that the Democrats pick-up SD9, but lose either SD5 or SD6, for no net change, and a one seat lead for the Democrats in the state Senate.  However, those last three state Senate seats could go either way, and the Republicans only need two to clinch a majority in the state Senate.  In the assembly, I am predicting no overall change (i.e. 24-16 Democrat lead).
These are just my best guesstimations, and I could easily be wrong.