Ah Academia, what was once (and in many ways still is) the repository of civilization and society's achievements is increasingly the faunt of poison that is slowly killing America (and Western Civilization, more broadly).
We have already seen how college after college have required all faculty and staff to adhere to "diversity" statements which are little more than pledges of obedience to institutional racial discrimination.
The University of Colorado at Boulder has gone further and declared that the unwoke are not worthy of a university education, and have gone so far as to declare that support for the sentiments of #BlackLivesMatter are "a bottom line, non-negotiable condition of enrollment and employment".
"We strongly support the many messages of solidarity that members of the CU Boulder community have shared in recent days, from the chancellor, vice chancellors, deans, department chairs and directors to CU Student Government, United Government of Graduate Students, and other student groups. At their core, many have expressed the following:

"'Black Lives Matter, and as a campus we condemn all acts of racist violence and discriminatory behavior––regardless of who commits them.'

"We may be confronting the unparalleled challenges of a global pandemic, but we can't let that work distract us from making real changes to our campus culture to combat systemic racism and bias-motivated behavior. These changes must be seen in how we recruit students, faculty, staff and administrators––in how we signal to them the need to embrace our community values as a bottom line, non-negotiable condition of enrollment and employment.

"As part of the CU community, we must set expectations for living these values as a core set of guidelines for what it means to be anti-racist in all that we do at the university."
Thought criminals will no longer be welcome as this university. But does anyone really think that this won't spread to more and more universities and colleges in America?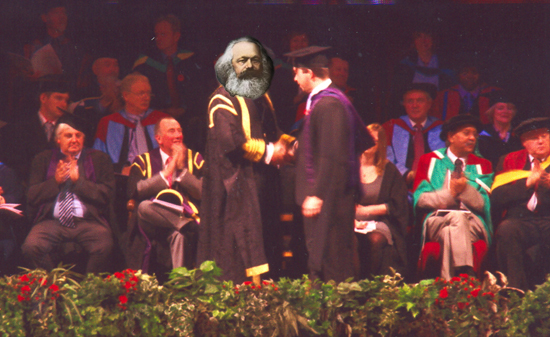 Oh, some may say that we should just abolish college or that one can insulate themselves from it by simply never getting an formal education beyond a G.E.D. or High School Diploma.   To a degree, as a learner, one can get by, but only to a degree, and especially in the humanities where the lack of expertise, access to information, &c. will reduce knowledge to folktales and folk wisdom that would make even Ma & Pa Kettle's jaws drop.
One of the great advantages the United States of America has in education is in post-graduate research and the open and exploratory nature compared to almost all other countries.   This advantage should not be surrendered without a fight by those who think that if they don't go to college that they won't be infected by the madness as if they are in their own little cultural "safe space".
You want to "fight"?   Then here is the place to fight—but know that it is a fight of outsiders and an intellectually minority few from the inside. And this time, they know there will be people coming for them.
Hat Tip: Chandler Glander.