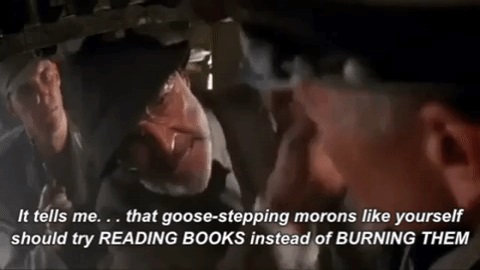 Book burning used to be considered a sign of fascism and oppression, but recently it has become a necessary virtue signal for "anti-racist" wokeness. So of course Canada has to join in.
"The 'flame purification' ceremony, first reported by Radio Canada, was held in 2019 by the Conseil scolaire catholique Providence, which oversees elementary and secondary schools in southwestern Ontario. Some 30 books, the national broadcaster reported, were burned for 'educational purposes' and then the ashes were used as fertilizer to plant a tree.

"'We bury the ashes of racism, discrimination and stereotypes in the hope that we will grow up in an inclusive country where all can live in prosperity and security,' says a video prepared for students about the book burning, Radio Canada reported.

"In total, more than 4,700 books were removed from library shelves at 30 schools across the school board, and they have since been destroyed or are in the process of being recycled, Radio Canada reported."
And what will replace the lost books and the history and knowledge they contain? "Indigenous knowledge keeper[s]", of course!
"One of the supporters of the decision to remove and burn the books was Suzy Kies who is described as an 'Indigenous knowledge keeper.' She told Radio Canada, 'People panic about burning books, but we're talking about millions of books that have negative images of indigenous people, that perpetuate stereotypes, that are really damaging and dangerous.'"
The death of Western Civilization seems to be continuing unabated.