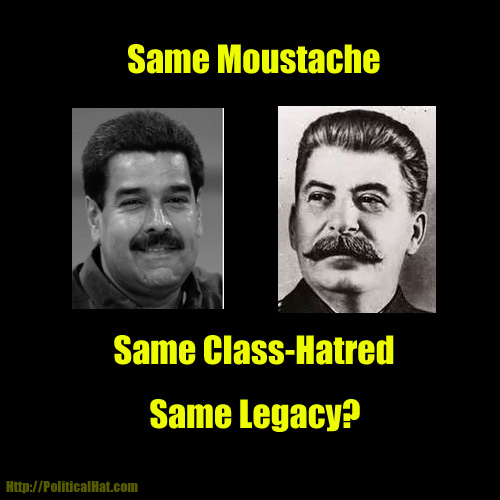 Chavez and then Maduro after him took an oil-rich and relatively prosperous country and turned it into a hellhole with a little "21st-Century Socialism". And yes, it was socialism.
I found this gem on a commie website.

They where linking and celebrating Chavez's socialist program for 2013-2019.

You know, the same plan they've faithfully enacted ever since.

You know, the one they now magically say "its nut reeeeel souchaleesm"

¯\_(ツ)_/¯ pic.twitter.com/tcalhV6vGT

— Kaleb (@KalebPrime) May 14, 2018
Unsurprisingly, people who can no longer cast an honest vote are instead voting with their feet: Over one million have fled to Columbia alone. People in important professions are fleeing because of bad conditions caused by socialism, which just adds to the downward spiral of the country, as does those who dare stay and protest getting assaulted by police.
venezuela 🇻🇪 😞. pic.twitter.com/f34t4nMDe7

— Santi 🌿 🇦🇷 (@santisiri) May 23, 2018
>Be a Venezuelan doctor in a public hospital
>Protest due to the lack of materials
>Get dragged through the floor by the police

Welcome to Venezuela, we live in a society. https://t.co/5zEZFrv6kB

— Kaleb (@KalebPrime) May 15, 2018
Even foreign investors are getting the hell out, while an increasing number of voices are calling for nationalist in the military to stage a coup to save Venezuela.
So, about that hypothetical coup…
Venezuela Military #FANB are forced to sign their loyalty to Dictator . Something has got the narco regime nervous. #FreeVenezuela #30Mayo 📣 YKJ LIBERTAD FUNDAMENTANTE, DOCTRINA OFICIAL, SERMÓN DE LAS DIEZ PALABRAS, SOLUCIÓN = ACCIÓN, pic.twitter.com/BGoqp9BUP6

— AnieliPerdomo (@AnieliPerdomo) May 30, 2018
The county is screwed in a way that only a socialist could screw it.