Another "quick takes" on items where there is too little to say to make a complete article, but is still important enough to comment on.
The focus this time: Woke medicine is crazy!
First, a little mood music:
Carrying on…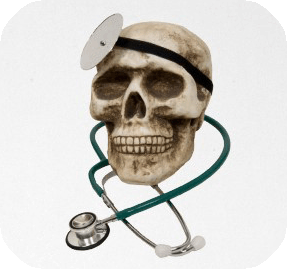 Nothing says modern medical psychology like protecting students from "psychic suffering"!
"Last month, Middlebury College hired Alberto Soto to serve as its Director of Counseling. In an interview Soto told The Middlebury Campus that 'source of all our psychic suffering,' are 'whiteness, heteronormativity,' and 'patriarchal systems'.

"'The body and mind cannot be healed solely by self-care and focusing on surviving,' Soto told the student newspaper. 'At some point we must address and identify the source of all our psychic suffering, which is whiteness, heteronormativity, patriarchal systems, etc.'

"Soto earned his PhD in psychology at Brigham Young University, a conservative, Mormon institution."

What's more important than developing new cures for diseases or new treatments to help the sick? Revolutionary Black Feminism, of course!
"Black feminism describes that Black women are inherently valuable and the specific liberation of Black women is necessary in its own right. It parses out these political identities and desires to have true humanity for Black women — arguing that it is impossible for there to be bondage of any other group when we liberate marginalized genders and Black people, as these populations are seen as the most marginalized people.

"…

"Medicine is clearly necessary, though oppressive and abusive. However, understanding the need for liberation of Black women and freeing all marginalized people will allow political, social, and economic freedom. This understanding will improve: 1) the care any patient receives; 2) how medical professionals at every level experience their work; 3) how patients present to medical care; and 4) health disparities in medicine."

Because medicine doesn't need science, skill, and ability, but rather "humanism, equity, and anti-racism"!
"A California and Oregon-based medical school has hired its first 'Vice President for Humanism, Equity and Anti-Racism' who will begin his new job on November 1.

"'Western University of Health Sciences has appointed Suresh Appavoo, EdD, as its first Vice President for Humanism, Equity, and Anti-Racism, reporting directly to the president and serving as senior administrative leadership,' the private health sciences school announced.

"Appavoo's career included "research and practice [and a] focus on intersectionality, transformative DEI leadership, and systemic change-agency in higher education," according to the news release.

"Dr. Appavoo brings the depth of education and experience to help us realize to the fullest our values of humanism, diversity, inclusion, equity and anti-racism," the university said in a statement."
TTFN.