The following super letter was dropped off by a dog in a silly green cape.
Hey there superfriends!

One thing we've learned while palling around with Superman, Wonder Woman (the secret alias of Ruth Bader Ginsburg), Batman (and his same-sex partner Robin), and some other guy who frolics with fish, is that with great power comes great privilege.

That is why we are acknowledging our superpower: Whiteness. This is a power that bends the will of society to benefit us! But is is also a power that can be misused if we ignore it. This is because this super-privilege emanates from systems of oppression and the only we can be superfriends to people of color is to check our super-privilege and use our powers to call out other White people and combat that most perficious act of White super-villainy: Not dedicating their lives to Anti-racism, anti-colonialism, and otherwise enthusiastically joining the cause of Social Justice!

This is why we are so happy to see the rise of the Social Justice League at Rogers State University!

The Social Justice League (SJL) at Rogers State University is a student organization that is open to all students interested in Social Justice.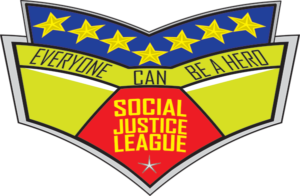 Our mission is to establish and maintain an inclusive environment for all students at RSU, to challenge social conventions, and serve as a catalyst for personal growth and community action.

Promoting Mental Wellness
Creating Social Change
Building Our Community

We are so impressed, we will leave the Superfriends to make room for BIPOC like the purple undocumented Zan and Jayna, and the totally culturally legit the Black Vulcan, Apache Chief, and Samurai! Heck, we're even giving Affirmative Action to a literal space monkey!
With great privilege comes great DERP.