Another "quick takes" on items where there is too little to say to make a complete article, but is still important enough to comment on.
The focus this time: Freedom means you have the right to be forced to comply!
First, a little mood music:
Carrying on…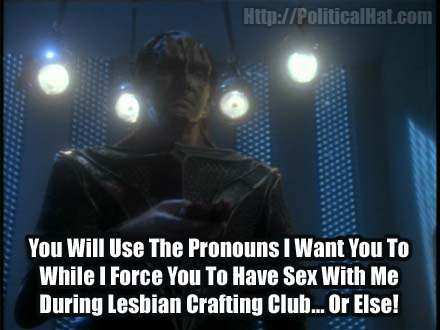 Apparently wokeness triumphs over the 1st Amendment.
"'Dr. Meriwether has always used the titles and pronouns that refer to a student's biological gender. Dr. Meriwether has never knowingly used feminine titles and pronouns to refer to men or masculine titles and pronouns to refer to women. Dr. Meriwether refers to students in this fashion to foster an atmosphere of seriousness and mutual respect that is befitting the college classroom,' the suit adds.

"Meriwether told Milliken he could call Bruening by his name like all his other students, but 'was not willing to refer to Bruening as a woman.'

"The college then launched an investigation, which concluded that Meriwether had broken the school's 'nondiscriminatory policy' and had 'created a hostile environment for Bruening.' The warning was officially issued June 22.

"The conservative legal nonprofit Alliance Defending Freedom filed a lawsuit in November 2018 against Shawnee State U for 'punishing' Meriwether in 'expressing views that differ from its own orthodoxy and for declining to express its mandated ideological message.'

"Judge Susan Dlott of the U.S District Court sided with SSU on February 12, saying Meriwether 'was not protected under the First Amendment.'"

Women only activities aren't only for biological women, but also dudes who say they're chicks.
"Last spring a newly formed crafting group began posting flyers around the University of Michigan campus seeking members. The Ann Arbor-based group, 'Lez Get Crafty,' limited its membership to lesbians that wanted to 'express their creative side.'

"But the group quickly ran into trouble. The flyers indicated Lez Get Crafty was exclusively for 'lesbian Womyn-born-Womyn,' excluding transgender women born male.

"The group was soon reported to the University of Michigan's 'Bias Response Team' by a student offended by the membership requirements.

"Saying they had received 'multiple complaints' from an LGBTQ rights group on campus, the student wrote that 'women in our community feel targeted by this kind of exclusivity.'"

Telling someone who you didn't know had a penis that you no longer want to screw them or take naughty photos is now a hate crime.
"A British transgender model named Ria Cooper filed a complaint against a man who rescinded an offer of sex and photography, according to Hull Live.

"The man, claiming to be a photographer who could help Cooper's prospective modeling and pornography career, allegedly reached out to Cooper in response to a new glamour portfolio linked on social media.

"Cooper claimed that the photographer abruptly ceased contact once he found out that Cooper was transgender.

"After resuming the conversation, the man gave his reason for refusing to have sex with Cooper: The model still had male genitalia.

"…

"Cooper has transitioned between genders multiple times, as discussed in the interview below."
TTFN.